BENTON/MT. VERNON – State Representative Dave Severin has announced his 3rd annual Backpacks for Buddies and Stuff the Backpacks holiday donation drive to benefit minors placed in emergency foster care and other individuals in need of basic necessities such as medical supplies, socks, and related items.
"Backpacks for Buddies collected literally hundreds of filled backpacks for children in need during the first year of the drive. We are so thankful to the people of Southern Illinois that reached out and lent their support. It was overwhelming," Severin said. "Because of the success of our previous efforts, we are proud to be sponsoring Backpacks for Buddies once again this year and our annual STUFF THE BACKPACKS Drive."
Here's how the public can help. Donate a new backpack (can be themed for boys or girls, or neutral colors). Donating individuals may also fill the backpack with supplies or bring supplies to fill empty backpacks. Suggested donations include: toothbrushes, toothpaste, mouthwash, deodorant, shampoo and conditioner, body wash, bar soap, and feminine hygiene products, coloring and activity books, crayons, colored pencils, markers, or any other item that would help a child make a difficult situation a little bit more comfortable or help an adult in need of basic supplies meet their needs.
Rep. Severin will be collecting "Backpacks for Buddies" at either his Mt. Vernon district office located at 2209 E. Broadway, Ste. 3 or his Benton office located at 303. N. Main Street through Monday, December 18, 2023.
The backpacks and the supplies to stuff the backpacks will be distributed to Southern Illinois community assistance partners and advocate groups. For more information, please visit RepSeverin.com/BackPacksforBuddies or call 618-440-5090.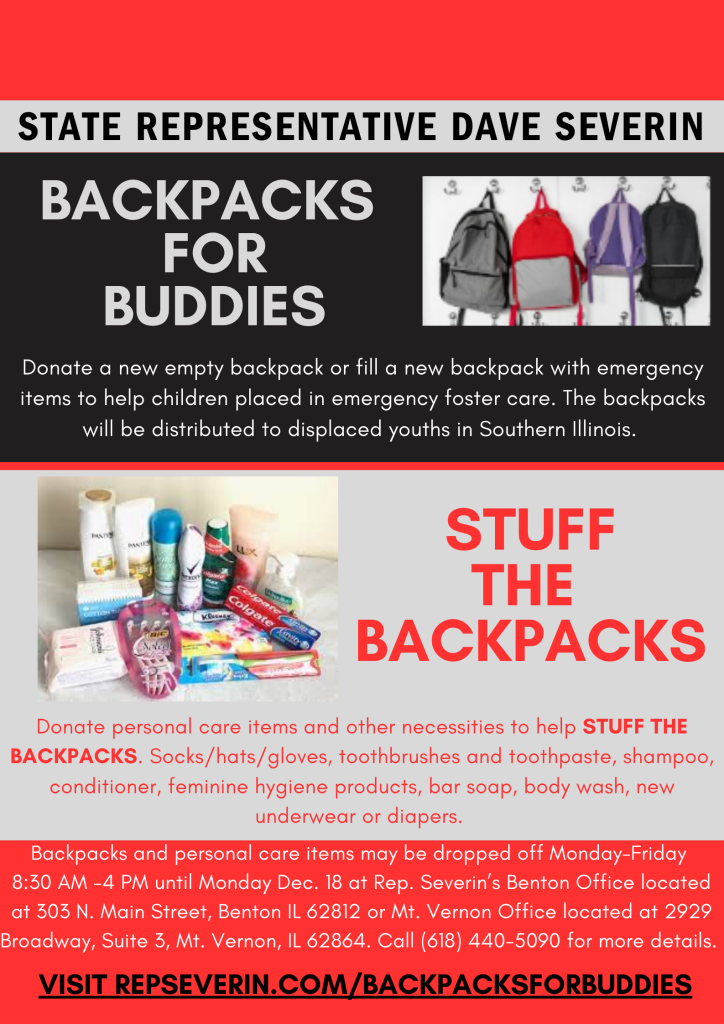 ###