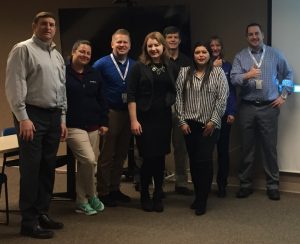 Thank you to Aisin Manufacturing in Marion for hosting this program for business owners to learn about the changes in the Federal Government's immigration policy and what is required for federal compliance. The seminar was conducted by Linda Fleener of the Illinois Business Immigration Coalition (IBIC) covering the following topics:
* Contents of President Trump's immigration executive orders, increased immigration enforcement, and impact on employers;
* How to completely and correctly fill out I-9 forms
*The rights of employers in the case of a visit from ICE and how to create a plan of action in case ICE performs an audit or raid at your business
Some of the partners of the IBIC include the Illinois Farm Bureau, Illinois Chamber of Commerce, Illinois Hospital Association, Illinois Hotel & Lodging Association, the Landscape Contractors Association, Illinois Science & Technology Coalition, and the Illinois Restaurant Association.
If you were unable to attend this program, please contact my office at 618-440-5090 to learn more.