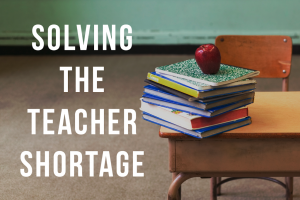 Our children's education remains a top priority for Illinois House Republicans, which is why they have taken action to address the growing teacher shortage in our state. First and foremost, our members are committed to ensuring highly prepared and effective educators are teaching our children. To do that, Illinois must address the teacher shortage.
Background
The Illinois State Board of Education said the 2017-18 school year began with about 2,000 unfilled teaching positions across the state.* And a recent survey conducted by the Illinois Association of Regional Superintendents of Schools found that school districts were increasingly having difficulty finding qualified candidates to apply for teaching positions.

The results of the survey showed concerns about teacher shortages were more prominent in rural districts in the central part of the state, and substitute teacher shortage concerns were most evident in southern part of the state. The most difficult positions to fill include bilingual, Spanish, special education teachers as well as nurses and school psychologists.
"The reduced candidate pool is likely caused by a combination of factors such as educators leaving Illinois, educators leaving the profession entirely, fewer students enrolled in Illinois approved programs leading to licensure, out-of- state educators choosing not to come to Illinois, and/or out-of-state educators unable to meet Illinois' licensure standards without substantial delays and additional requirements being met. These issues span across the entire state and are not isolated to rural or urban communities, a particular district type, or geographic location." **
Legislative solutions
House Republicans have been working closely with educational professionals to devise solutions to increase the number of qualified teachers in Illinois classrooms. Their legislative agenda to address the teacher shortage is outlined below:


Attribution
* http://www.whig.com/20180417/teacher-shortage-threatens-harm-to-illinois-education-system#
** http://iarss.org/wp-content/uploads/2016/01/IllinoisTeacherShortage_12-10-15_kd-2.pdf (pg. 18).