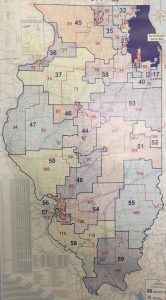 SPRINGFIELD – Illinois House Republican Leader Jim Durkin (R-Western Springs) along with all members of the House Republican Caucus have filed a resolution demanding an independent redistricting reform solution.
"It is unacceptable that partisan politics involved in the map drawing process have skewed years of election results throughout Illinois," Durkin said. "We are long overdue for an independent map drawing process that will protect voter rights, create a more transparent process and make legislative races more competitive with more qualified candidates running for office."
House Resolution 995 shows broad support for maps to be drawn without regard to incumbency and partisanship, and allows voters the opportunity to choose a candidate based on the issues and policies most important to them. Legislative district maps are redrawn every ten years based on the newest census results.
"It is clear that people from both sides of the aisle will not be supporting the current protocol of our inequitable and unfair map-drawing process, making now the time to begin working efficiently towards a new solution to a fair and equitable map across the state," Durkin said. "A new process will give voters the opportunity to have their own say and involvement in ensuring that the new legislative maps fairly represent each district in Illinois."
According to a poll from the Paul Simon Public Policy Institute, 72 percent of Illinois residents, including a majority of both Republicans and Democrats, support the creation of an independent commission to draw legislative district maps. Based on the current legislative calendar, the deadlines for passage are April 27 in the House and May 3 in the Senate.