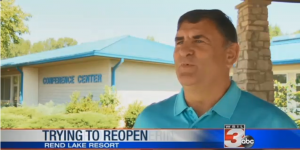 Joe Ragusa of WSIL Channel 3 reports that Illinois state officials want to reopen the Rend Lake Resort.
Representatives with the Illinois Department of Natural Resources met with several companies Thursday, hoping to find someone capable of running the place.
The facility closed due to mold problems in Dec. 2016, right after Rep. Dave Severin (R-Benton) won his seat.
"There was actually one building, it was called 'The Wind Jammer,' it was razed," Severin said. "They tore it down just a couple weeks ago and they found that not only was there mold in that building, but the walls, you could put your hands through them. It was in terrible shape."
Loris Elston of Marion is considering a bid with his son-in-law.
"We need flooring. We need pads. We need the carpet," Elston said. "The bathrooms need to be sheet-rocked. In some cases, new tubs, new toilets."
Thursday's meeting was the fourth meeting officials have held since the Rend Lake Resort's closure, according to another prospective buyer whom did not wish to be named.
"It's a beautiful, beautiful facility. Beautiful resort," Elston said. "But it's just sat too long and too much needs to be done."
Elston said he isn't sure just how much the repairs will cost but the work won't end anytime soon.
Bidders have until Aug. 9 to submit their proposals. An IDNR spokeswoman said there is no timetable after that to reopen the facility, it just depends on the bids.
The contract would last 18 years with an extension possible for another 25 years.
View the WSIL Channel 3 report by Joe Ragusa by clicking here.