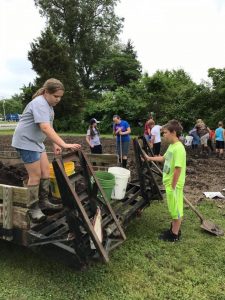 Royalton Community Garden
State Representative Dave Severin (R-Benton) is proud to announce that the Village of Royalton was recognized this week with the Governor's Hometown Award for its "Royalton Community Garden" program in the Environmental Stewardship category. Honorable mention also goes to the City of Marion's "Girl Scout Silver Award Carnival for Lighthouse Shelter."
"I am very proud of the great work of our communities and the Girl Scouts here in southern Illinois," said Rep. Dave Severin. "The Governor's Hometown Award for Royalton is well deserved! These programs are fine examples of projects that add to the quality of life for our communities."

For the Royalton Community Garden, Girl Scouts were approached by Royalton Mayor Christy Powers to start a project that the youth in their community could take part in. Jacquelyn Walter and Cara Wilson enlisted local youth and planned, planted, and maintained a community garden. Through working on this project the girls found that they were capable leaders and enjoyed working in the outdoors.
For the Marion project, the Girl Scouts of Southern Illinois Troop #8893 hosted a fall festival carnival for younger children to support the Lighthouse Shelter in Marion, Illinois. The Lighthouse Shelter is a homeless shelter in Marion. During the Spring of 2017, the Lighthouse Shelter suffered from flooding. The Girl Scout Troop #8893 had attendees to the festival brought items to donate to the Lighthouse Shelter.
Sponsored by the Serve Illinois Commission, each jurisdiction will receive a plaque and road sign to display in its community.
Presented continuously from 1983 to 2014 and then 2017 to present, the Governor's Hometown Award​s (GHTA) program gives formal recognition to those who contributed to projects that improved their community's quality of life. These projects are sponsored by local units of government which have strong volunteer support, meet a need, and make a definitive impact, thereby generating a positive outcome in the community and by extension, the state.