Dear Friend,
I guess you could consider this week's edition of Severin Says to be the first 'Illinois budget edition' of our weekly newsletter this year. The reason for that is because Governor Pritzker took to the podium in the Illinois House this past Wednesday to offer his future plans for spending your tax dollars.
House Republican analysis is projecting a revenue stream of more than $38 billion in revenues to be collected during the coming fiscal year. The Governor has proposed spending $38.5 billion and also introduced ideas to tax every plastic bag you get at the grocery store, a new tax  on e-cigarettes, and is counting on revenue from legalized recreational marijuana to close up his own projected $3 billion budget deficit.
My feeling is as it has been for some time now: Illinois needs more taxpayers, not more taxes. That means saying no to another signature piece of the Governor's budget presentation; a graduated income tax proposal.
Before we get to more reaction on the Governor's first budget address, let's take a look back at some great events I've been a part of during the last week.
SIU School of Accounting 21st annual high school competition.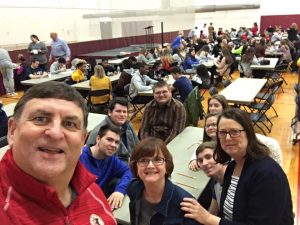 Over 300 high school students from 23 schools throughout Southern Illinois descended on SIU Carbondale for the 21st Annual SIU School of Accounting High School competition. Great kids and a lot of smart people in the room!
Amos Herman Mitchell – World War II Veteran Turns 100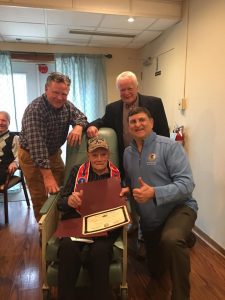 During my travels on President's Day, I was very honored to present Mr. Amos Herman Mitchell of Benton with a Congratulatory and Happy Birthday Certificate from the Illinois House. What a great day with family and friends celebrating with Amos on his 100th birthday. Thank you Amos from a grateful nation for your service and commitment to the United States.  
WJPF Radio Interview – Friday, February 22nd
You can listen in to my interview from Friday morning with Tom Miller by following the link provided above. We discuss the Governor's budget proposal in further detail.
Press Release: Severin Says Budget Proposal Built on Shaky Ground
Springfield….According to State Representative Dave Severin (R-Benton), Governor JB Pritzker's first combined State of the State and Budget Address before a joint Session of the Illinois General Assembly laid out a vision that's built on a shaky foundation.
"Governor Pritzker sure can give a good speech," Severin said. "That being said, I favor substance much more over style, and some of the things I heard today were very concerning."
Severin is referring specifically to Pritzker's plan to short pension contributions this year for a one-time infusion of cash for State operating expenses. Severin says that plan has been tried already with some dubious results.
"Illinois' pension obligation is the worst in the country," Severin said. "Our debt to the pension systems is more than $100 billion in long term obligations. Skipping a pension payment or even shorting the pensions with a Rod Blagojevich-like borrowing and bonding scheme moves us backwards, not forwards on fiscal sustainability."
Additionally, Severin expressed concern regarding Pritzker's proposals to raise taxes on insurance plans, e-cigarettes, and to raise revenues from legalized marijuana and sports betting.
"I understand that the Governor is trying to close about a $3.2 billion hole in the budget," Severin said. "I didn't vote for the current budget because I knew it was out of balance. I'm not inclined to chase after a bunch of untried revenue stream ideas like more taxes and more gambling without seeing more details than we got today."
Severin also said he was concerned about the approach that was offered by Pritzker in the State of the State/Budget Address.
"The Governor spent about 5 minutes laying out what a cuts-only budget would look like, and the entire rest of the speech talking about how to raise enough taxes to have enough money to fund enough programs to satisfy the Democrats in the House and Senate," Severin said. "I would have preferred a more balanced approach than 'tax, spend, and repeat',".
Stay Connected!
My district office is open Monday through Friday 8:30 a.m. –  4:30 p.m. in Marion. The address is 600 Halfway Road, Suite 103. Phone number is 618-440-5090 and email address is Severin@ILHouseGOP.org