Dear Friend,
As you are likely aware, the State of Illinois has long been mired in financial despair. For decades, Chicago Democrats (i.e. Mike Madigan) that control every lever of power in State government have used one-time gimmicks, tax hikes, and monetary shell games to pass budgets that leave our bills unpaid, our citizens the highest taxed in the nation, and our credit rating on the brink of junk bond status.
Our income tax has been raised three times just since 2010. But, this week, for the first time since I can remember, some positive financial news for Illinois hit the newswires.
Reports from the Illinois Comptroller's office have revealed that Illinois unexpectedly received $1.5 billion more in tax revenues than previously estimated. More good news followed! Governor Pritzker announced he was abandoning his plan to skip a $900 million pension payment to balance the FY 2020 budget.

Skipping pension payments is right out of the Rod Blagojevich budget gimmick playbook, and I was one of the first lawmakers to step forward to oppose the Governor's plan to skip the pension payment following his Budget Address. If the Governor sticks to his word to make the full pension payment, that will be a positive step for our State's finances and for the good folks that rely on the pension system to remain solvent.

Upon the news of the unexpected windfall, House Republican Leader Jim Durkin held a press conference to urge Governor Pritzker to abandon his plans to raise or create between 7 and 10 sales taxes and to drop his bid to change Illinois' Constitution to allow for a 'progressive' or 'graduated' income tax. Leader Durkin is correct when he says that Illinois can now balance its budget for this fiscal year and next fiscal year with NO new tax increases. Below are some quotes from his press conference:
"We have the money to balance the budget without new taxes." On Wednesday, House Republican Leader Jim Durkin, along with Deputy Leaders Dan Brady and Tom Demmer, held a press conference to reiterate the need for bipartisan negotiations to pass a balanced Fiscal Year 2020 budget.
In light of this week's announcement that April revenues were up by $1.5 billion and that FY20 estimated revenues were revised upwards by $800 million, Leader Durkin announced that we have the money to balance the FY20 budget without new taxes. Durkin's full remarks follow:
"For the first time in years, we are here to report great news for Illinois taxpayers.
Some of you might recall, though it seems Speaker Madigan has already forgotten, that last year after bipartisan negotiation between Republican and Democrat members in the House and Senate, we were able to enact an FY19 budget that was not onlybalanced but will likely be running a surplus by the end of the year.
Furthermore, projections are showing that this year's tax receipts will be the HIGHEST they have ever been in our state's 200-year history.
All of this is clear evidence of what I have always preached: when Democrats invite Republicans to the table and respect our priorities, we will work together in good faith and come to agreements that help move our state forward. And because of our bipartisan work last year, Governor Pritzker was able to move off his misguided and short-sighted approach to balancing the FY20 budget by artificially lowering our obligations to the state's pension systems.
What's even better is that taxpayers can now be reassured that Governor Pritzker and his Democrats repeated call for more and more of their hard-earned money to balance the budget is unnecessary.
Work with the Republican caucus and we will help you balance the FY20 budget too, all without raising taxes. The numbers are clear – WE HAVE THE MONEY TO BALANCE THE BUDGET WITH NO NEW TAXES AND NO TAX INCREASES. There is no more need to talk about raising taxes on bags or cigarettes or businesses or the middle class. There is certainly no reason to even be considering a graduated tax now. The desperate pleas for more taxes have rung hollow in Illinois for years, and now taxpayers know the truth.
We have the money to balance the budget without new taxes. With only 18 days left of session, we must start working NOW to craft another truly balanced budget, with no new taxes or increases, that will continue projecting our state towards fiscal stability."
House Democrats advance $2.4 billion in tax and fee increases to fund transportation infrastructure.

On Thursday, Democratic members of the House Revenue & Finance Committee advanced an amendment (on a partisan roll call) to the full House that would raise the gas tax and related fees by $2.4 billion to fund transportation infrastructure needs.

House Amendment #1 to HB 391 contains language proposed by Local 150 to provide funding for "horizontal" capital, i.e. roads and bridges. This legislation is identical to HB 3233, Senate Amendment #1, which is Local 150 language. It is important to note that these bills have not been negotiated or agreed to by all parties involved and do not represent a finalized capital infrastructure funding plan.
The major revenue components contained within HB 391 include increasing the motor fuel tax by 25 cents (a 132% increase) and increasing vehicle registration fees by $50 (a 51% increase). Together with the other tax and fee increases outlined below, HB 391 would bring in approximately $2.4 billion in annual funding for transportation infrastructure.
Take the Poll!
Now that you have all the details on the proposed gas tax hike and fee hike for motorists, I'd like to know your opinion. If you agree that the gas tax should be raised and the fee for driver's licenses, registrations, and license plates should be increased in order to fund road construction and other capital infrastructure projects, vote yes. If you do not think that the gas tax or fees for driver's licenses, registrations, and license plates should be raised to fund capital infrastructure projects, then vote no. Thank you for your input!
Honoring Fallen Christopher Firefighter Kody Vanfossan
I want to publicly thank Governor Pritzker for issuing a proclamation in Kody's honor and for agreeing to order flags in Illinois to fly at half staff.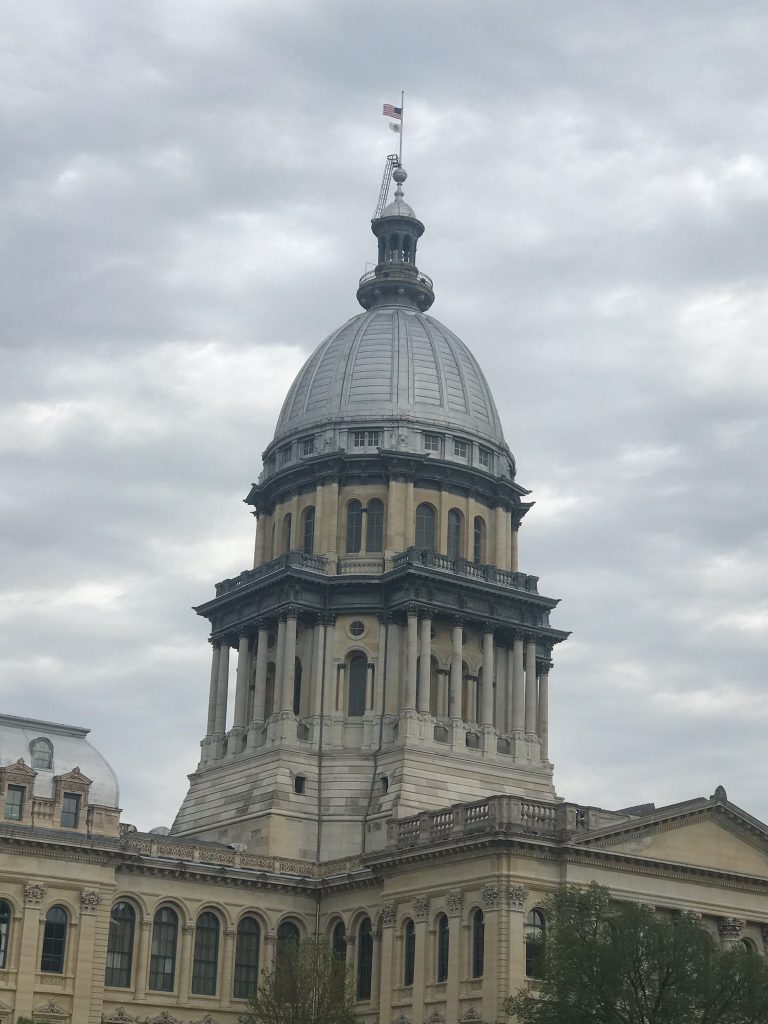 Celebrating Teacher Appreciation Week!
This week, I took a few moments to talk about inspirational teachers that have positively impacted my life. I am eternally grateful to Harl Ray Lewis and Rich Herrin for their guidance and friendship. Happy Teacher Appreciation Week to my wife Penny, my daughter-in-law Melissa and to all the wonderful, dedicated educators out there. Thank you for all that you do!
Quick Shots from Springfield and the 117th District


Volunteers planting flowers in Benton

Southern Illinois Coaches Association Dinner

Celebrating SIU's 150th
Anniversary

Constituents from the 117th District in
Springfield advocating for SAFE (victims of sexual assault)

Honor students receive awards at
Benton High School ahead of graduation.

Physicians Assistants at
the Capitol
Stay Connected!
There are still huge issues left to be resolved in the remaining days ahead of the House's scheduled May 31 adjournment. My office in Marion is open Monday through Friday from 8:30 a.m. to 4:30 p.m. You can call any time at 618-440-5090 or email me at Severin@ILHouseGOP.org. Don't forget you can file witness slips expressing your support or opposition to any legislation at www.ILGA.gov. Find the bill, its status and sponsor, and make your voice heard!