Dear Friend,
On this special Monday edition of Severin Says, I want to share with you some disturbing news regarding the release of new amendatory language for SB 1966, a bill that is being referred to as an 'omnibus' gun control package. The gun control package is slated for a Committee hearing at 8:30 a.m. in Springfield on Tuesday, May 21 (tomorrow).
State Rep. Kathleen Willis of the Chicago area is once again pushing major changes to Illinois's gun laws, which are already the strictest in the nation. As we know in Southern Illinois, hunting, sport shooting, and outdoor activities are not only our Constitutionally guaranteed rights, they are traditions passed down through families generation after generation.
Let's take a look at some of the bill's many, many details:
The correspondence I have received from the people of the 117th district and from all across the State of Illinois shows overwhelming opposition to new impositions on law abiding gun owners. SB 1966 Amendment 1 is known as an "omnibus" legislative vehicle. One of Webster's dictionary definitions for omnibus is 'containing or including many items'. That description fits SB 1966 Amendment 1 perfectly. I will be voting NO.
For those of you that have taken the time to call, text, or write me a message to express your concern, here's a quick look at the bill's details: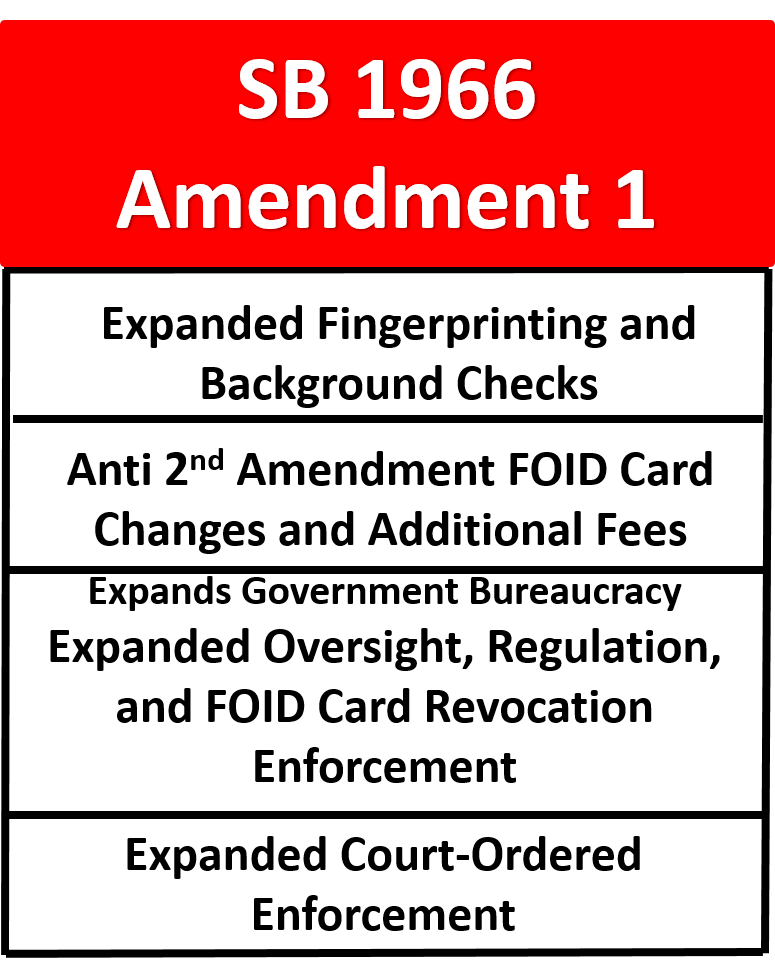 1.) Expanded Fingerprinting and Background Checks
Requires mandatory fingerprinting for all FOID and CCL applications and renewals (unless the person has previously provided fingerprints).
Universal background checks on all firearm transfers
Closes the person-to-person background check loophole
Require background checks through federally licensed dealers for all transfers to begin 90 days after effective date.
Family member transfers still require the person being transferred the weapon to call ISP and have a background check.
(2) Changes to the FOID Act
Shortens the FOID card length to 5 years (currently 10 years).
Raises the FOID fee to $50 (from $10)
New Applications = $6 DNR, $1 State Police Services Fund, $23 State Police Firearm Services, $15 Revocation Enforcement Fund, $5 Mental Health Fund
Renewal Applications = $30 State Police Firearm Services, $15 Revocation Enforcement Fund, $5 School Based Mental Health Services Fund
The bill's language says "and applicable processing fees" which was a request from the Treasurer's Office due to people being charged processing fees for using credit cards.
ISP can charge an additional fee for background checks (State and & FBI background check through Live Scan vendor are $28.25)
Language does not indicate it is a 1 time fee.
Increase the time period for approving or denying a FOID application from 30 days to 30 business days.
Allow for FOID Cancellations
Update FOID Revocations language regarding "Clear and Present Danger"
Clarifies that the any person who takes any action to cause harm to others may have his or her FOID card revoked as a "clear and present danger."
3) Increase Law Enforcement Bureaucracy
Creates the Law Enforcement Prohibited Persons Portal – 90 days for ISP to implement
Database for law enforcement only
Exempt from FOIA
4) Increases in Revocation Enforcement
New ISP led Revocation Enforcement task force / Mandated ISP enforcement
Require ISP to send out revocation notices within 7 business days
No time requirement for ISP currently, merely states, "shall provide notice"
Require Firearm Disposition Records from transferees
(5) Expanded Court Ordered Enforcement
Clean up convictions section to enumerate when revocations are required
Update both bail and conviction sections to account for new Firearm Disposition Records requirement
Court ordered revocations for felony indictments pending convictions
Include language to cover those who are under 21 and convicted of certain misdemeanors.
Rep. Severin's "Camp Out with a Good Book" Summer Reading Club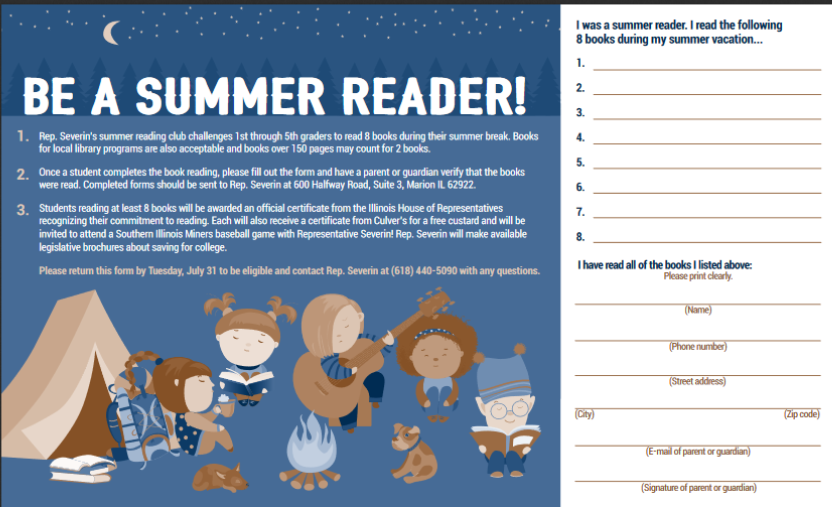 As the school year draws closer to its end, I want to invite your 1st through 5th grader to keep up with their reading this summer. To that end, I am once again sponsoring my "Camp Out with a Good Book" summer reading program. 1st through 5th graders in the 117th district that read 8 or more books this summer will receive a certificate of congratulations, a free custard from Culver's, and a ticket to attend a Southern Illinois Miners baseball game with Rep. Severin and fellow summer reading club members.
Senior Citizens Health and Wellness Fair comes to Marion