Dear Friend,
Since January, I have used this weekly newsletter to keep you informed on news and notes from Springfield and beyond. Many times, I have mentioned the overwhelming lack of urgency by Democrats to take legislative action on the major initiatives of Governor JB Pritzker.
My short time in Springfield has taught me many things. One certainty of Springfield life is that major issues are usually held until the final hours of legislative Session. I believe Speaker Madigan does this for a couple of reasons. As time dwindles, the public is less likely to have time to weigh in on tax hikes, fee increases, or radical public policy changes. This tactic is used to "hide the ball" from news reporters and taxpayers for the sole purpose of jamming through unpopular legislation at the end of a busy Session and hoping the public doesn't notice too much.
Another reason for delayed action in the House is to run out the clock on legislative opponents and to maximize pressure on rank-and-file lawmakers. If the state budget is not passed by midnight on May 31st, an overtime session will be required. Legislation considered during overtime sessions requires a 3/5ths majority approval of legislators in both chambers before it can be sent to the Governor for his signature.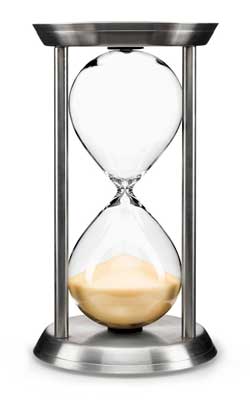 Cooperating with the minority party is not really Speaker Madigan's strong suit, and that has been crystal-clear again this year as House Republicans are continuously shut out of budget and capital infrastructure negotiations. Governor Pritzker, Speaker Madigan and the Democrats that control every lever of power in Illinois State government have so far this Session taken a laid-back approach and that means many of the big-news policy items will have to be handled during the final hours of the Session.
Issues awaiting action in the House include radical changes to Illinois' abortion laws, a possible capital infrastructure bill, legalization of recreational marijuana, legalization of sports betting, and the possibility of several sales tax increases to pay for new spending. The list of big policy decisions left for legislators is long and time is running short. The House adjourned on Friday morning and will take a one-day break before legislators return to Springfield on Sunday afternoon to resume the end of session sprint to the May 31st deadline.
Despite the seeming lack of action on big issues, a few bills did make it through part of the process this week including the Governor's tax hike plan and a terrible, unconstitutional gun-grab bill (SB 1966).

More on those and more in this edition of Severin Says!
SJRCA 1 and SB 687 – Progressive Income Tax Proposal Moves through House Committee
Senate Joint Resolution Constitutional Amendment 1 passed out of the House Revenue and Finance Committee on a partisan vote of 9-6, with all Republican members voting 'No.' The graduated income tax constitutional amendment now goes to the full House of Representatives for a final vote. If approved by the House, the constitutional amendment would be placed on the November 2020 general election ballot.

On Friday morning, Democrats passed SB 687 out of the House Revenue and Finance Committee, again over strong Republican objections. This legislation would establish the actual graduated income tax rates in Illinois should SJRCA 1 be approved by the voters in 2020.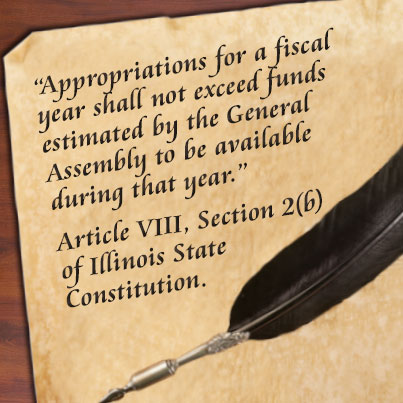 SB 687 passed out of committee on a partisan vote of 9-6, with all Republicans again voting 'No.' Republican members of the Revenue Committee, including Rep. Margo McDermed, objected to the technical sleight-of-hand used by Democrats to post the measure for a vote in committee, which did not give opponents time to file witness slips in opposition to this massive tax hike.
House Republicans continue to point out that Illinois currently has the revenue necessary to pass a balanced Fiscal Year 2020 budget without higher taxes. On Thursday, I joined my fellow first-term House Republican members for a Capitol press conference to reiterate our opposition to handing the Democrats a "blank check" to raise taxes and increase spending.

PRESS RELEASE: Severin Pledges No Vote on Unconstitutional Gun Control Bill
Springfield….State Representative Dave Severin (R-Benton) voiced significant concerns Tuesday following House Committee passage of SB 1699, a sweeping gun-control measure. Severin says his concerns center on the bill's expansion of fingerprinting and background checks, FOID card changes and additional fees, increased governmental regulation and personal information security, bureaucracy and oversight, and expanded court-ordered revocations of FOID and concealed carry licenses.
"I have major concerns about privacy and security for the citizens of Illinois," Severin said. "SB 1966 requires the Illinois State Police to maintain a database of fingerprints for every person that applies for a FOID card. Fingerprints are supposed to be for criminals, not law abiding citizens."
Severin says he was also shocked by testimony and answers that he heard from the bill's sponsor during the House Judiciary Criminal Law Committee hearing on questions of privacy, security, and the overall Constitutionality of SB 1966 Amendment 1.
"My friend and colleague Patrick Windhorst laid out a prosecutorial style line of questioning that really lifted the veil on what this gun control bill is all about…total government involvement in the manufacture, sale, transfer, possession, and use of firearms," Severin said. "This bill erodes freedoms for law abiding people. It has the potential also to make it too expensive to own a gun. There is no other constitutionally guaranteed right that costs people money or requires them to provide their fingerprints to the government to be stored in an online database."
Severin says the same politicians bent on expanding the size, scope, reach, and cost of State government are the ones pushing an unconstitutional plan to grab the guns the middle class.
"Southern Illinoisans will reject this governmental intrusion into freedoms," Severin said. "My constituents can count on me to vote NO on SB 1966 if and when it ever comes before the House. I believe that the Bill of Rights is under assault right now and I hope my Democrat colleagues will wake up and join me and oppose this unconstitutional gun grab."
####
Rep. Severin's "Camp Out with a Good Book" Summer Reading Club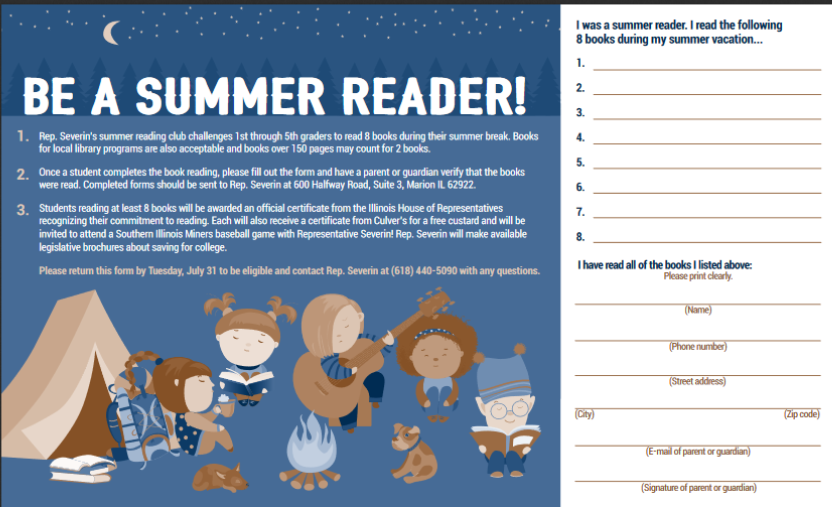 As the school year draws closer to its end, I want to invite your 1st through 5th grader to keep up with their reading this summer. To that end, I am once again sponsoring my "Camp Out with a Good Book" summer reading program. 1st through 5th graders in the 117th district that read 8 or more books this summer will receive a certificate of congratulations, a free custard from Culver's, and a ticket to attend a Southern Illinois Miners baseball game with Rep. Severin and fellow summer reading club members.
Senior Citizens Health and Wellness Fair comes to Marion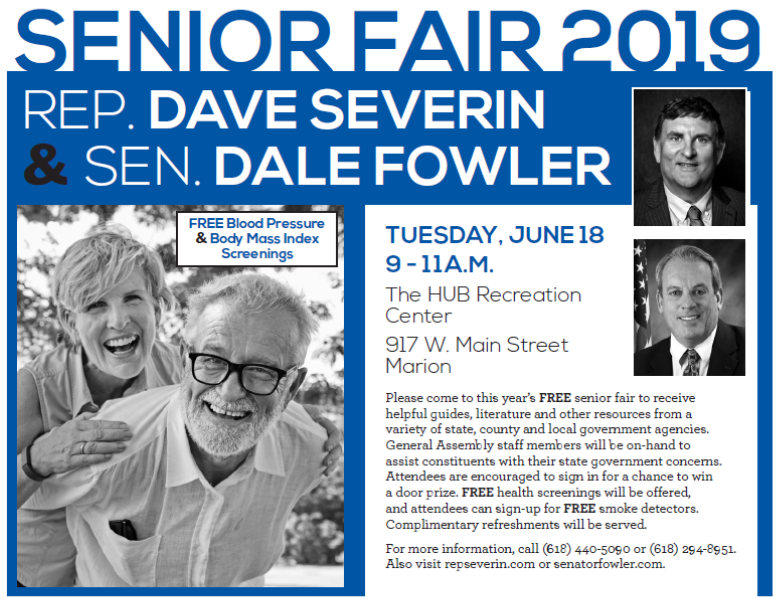 Stay Connected!
Get the Illinois House Republicans' Week in Review emailed directly to your inbox! Sign up today to get a first-hand look at the continuing legislative and fiscal challenges facing policymakers in Springfield.
With just a few short days left before the Session adjourns, stay tuned to RepSeverin.com for updates on all the news that you need to know!