Marion….State Representative Dave Severin has announced a three-month drive to collect 'go' bags for children facing emergency family situations and being placed in foster care. Rep. Severin is calling the donation drive "Backpacks for Buddies."
Severin says that far too often, children removed from their homes are forced to place their personal toiletry items, clothing, blankets, toys, and other personal comfort items into black trash bags.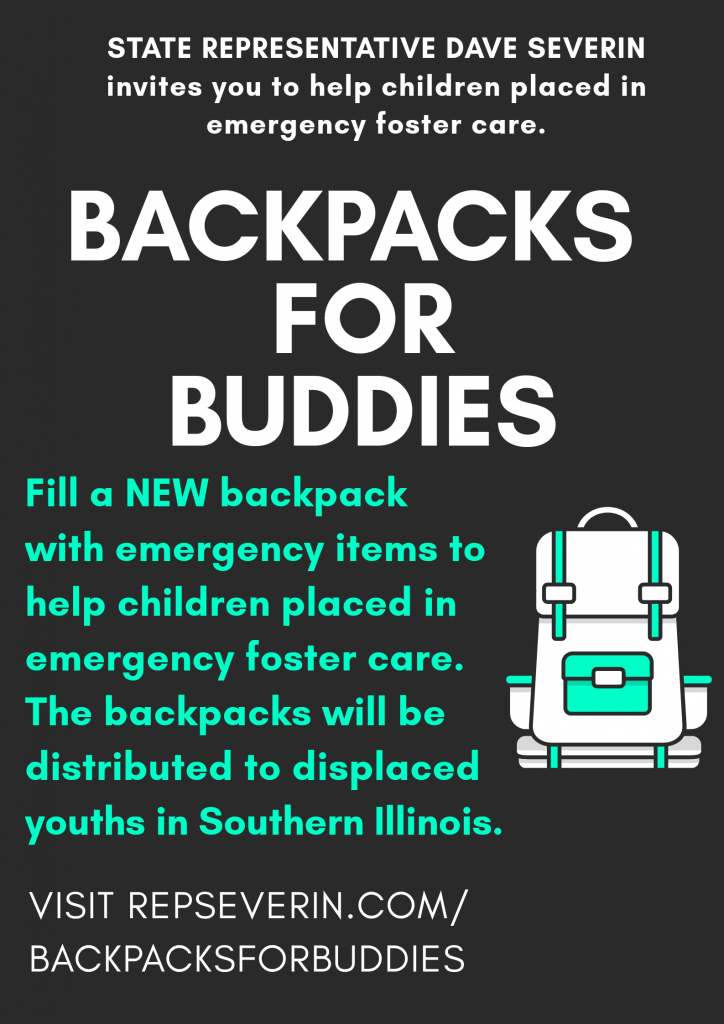 "What I'm trying to do is raise awareness of this issue and achieve results that will make the lives of young children and adolescents placed in emergency foster care a little easier," Severin said. "When children are faced with the unfortunate situation of being displaced from their home and placed into foster care, many do not have necessary care items to make it through the night or the next day. I want to lead an effort that says, if you find yourself in a situation where you are removed from your home or family unit and placed into a foster home or emergency shelter, then my office, and the people of Southern Illinois quite literally have your back. You won't have to carry your things in a black trash bag, and you can have some very important items that you can keep and call your own during a difficult and trying period of time in your life."
Severin says that starting Tuesday, October 1 through December 31, 2019, he will be collecting "Backpacks for Buddies" at his district office in Marion located at 600 Halfway Road. The backpacks will be distributed to DCFS and Southern Illinois child protection agency partners as they are received throughout the rest of 2019.
Although any toiletry or hygiene product donations will be accepted, Rep. Severin is seeking the following items as part of the "Backpacks for Buddies" drive.
A new backpack (can be themed for boys or girls, or gender neutral for adolescent foster children)
The backpacks can be filled with all or some of the following items: Toothbrush and toothpaste, deodorant, shampoo, body wash or bar soap, and feminine hygiene products for adolescent females.
For more information, please visit RepSeverin.com/BackPacksforBuddies or call 618-440-5090.