Dear Friend,
This week, I signed on to co-sponsor a House Resolution offered by House Republican Leader Jim Durkin calling for Speaker Madigan's immediate resignation and that a new vote take place for Speaker of the House.
Illinois House Republican Leader Jim Durkin released the following statement regarding the call for Speaker Madigan's immediate resignation and has filed House Resolution 885 to remove Madigan from the position of Speaker of the House:
"The federal charges outlined in the ComEd prosecution highlight a scheme solely for the benefit of Speaker Madigan. These facts are a disgrace of the highest level to the citizens of Illinois and to the institution of which we serve, the Illinois House of Representatives.
The House Rules for the 101st General Assembly provide great responsibilities and duties of the Speaker of the House. After reviewing the facts contained in the ComEd deferred prosecution agreement, it is abundantly clear that Michael J. Madigan is unable to execute his responsibilities as Speaker of the Illinois House of Representatives and as state representative for the 22nd House District.
I call for the immediate resignation of Speaker Madigan from the Illinois House of Representatives, and will be filing a resolution to have the House Chamber vote on a new Speaker immediately."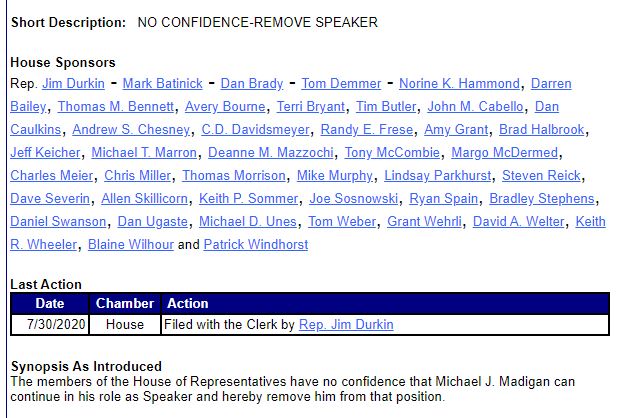 You can read the entire HR 885 by clicking here.
Severin Says Special Session Necessary to Clean up Corruption
July 21, 2020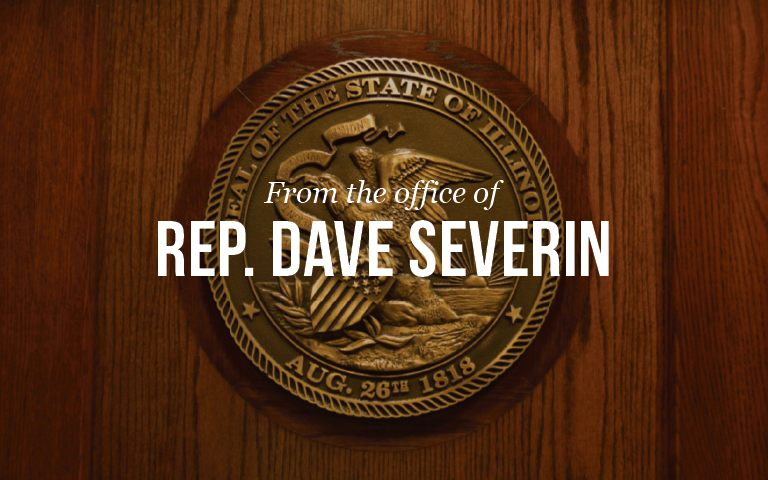 BENTON – State Representative Dave Severin (R-Benton) joined a growing list of legislators on Tuesday demanding Governor JB Pritzker call a special session of the Illinois General Assembly to take up badly needed ethics reforms.
Rep. Severin makes the demand on the same day that 3 suburban GOP Reps, Deanne Mazzochi, Grant Wehrli, and Dan Ugaste held a Zoom video press conference to call on Pritzker to bring lawmakers back to Springfield.
"The point of today's demand is to say that silence on the issue of corruption is no longer acceptable," Severin said. "The governor has said himself that the time for ethics reforms has come. He said so during his State of the State speech. So, I'll borrow a line from the governor. Now is not the time to sit idle while under-the-table deals, extortion, or bribery persist. If you read the federal government's agreement with ComEd, you'll see those scourges are alive and well and feeding on state government. The longer we delay, the more corruption that will take place. Do the right thing, Governor Pritzker. Call legislators back to Springfield and joining us in cleaning up government."
ComEd Company has admitted to hiring Madigan's political allies to curry favor with the Speaker in order to pass sweeping energy rate legislation to improve the company's profitability.
House Republicans have released an online petition demanding that Governor Pritzker call a special session so Illinoisans can have real ethics reforms at https://www.ilhousegop.org/ethics.
Southern Illinois GOP LegislatorsCall for Madigan to Resign Immediately following US Attorney's Revelations about ComEd, Exelon, and Speaker Mike MadiganSouthern Illinois – 
Southern Illinois' GOP delegation to the Illinois House of Representatives released the following statements today after the Northern District of Illinois United State's Attorney's office revealed details of a 'deferred prosecution agreement' involving fraud and public corruption at energy giant Exelon and its subsidiary ComEd.

House Speaker Michael Madigan is not named in the agreement but is instead referred to as Public Official A. According to the US Attorney's office, Public Official A was engaged in arranging jobs and contracts for political allies in exchange for passing legislation favorable to Exelon and ComEd's profitability and rate schedules.
State Representative Dave Severin:
"As the federal investigation into widespread public corruption continues to reveal its many layers, I am sadly not at all shocked today to learn that House Speaker Madigan has been implicated in organized, white-collar criminal activity.
When I first ran for office, I made two pledges. I promised to support term limits for elected officials and that I would vote NO for Mike Madigan for Speaker of the House. Speaker Madigan's iron grip on the wheels of progress in Springfield has resulted in him controlling the entire Democrat Party of Illinois and the entirety of the legislative process in the House of Representatives. Speaker Madigan is first and foremost concerned with maintaining his power in Springfield.
Our focus as a legislature must immediately shift to passing strong, sweeping changes to our ethics laws. We must end self-dealing and the all-too-stubborn problem of corruption under the 40-plus year reign of Mike Madigan and the Chicago Democrat Machine. If the allegations in the deferred prosecution agreement are indeed true, Speaker Madigan has broken the public's trust, broken the law, and must resign immediately."
The Illinois State Board of Education issued detailed guidelines for the reopening of schools and planning for the resumption of high school sports and extracurricular activities. New case outbreaks have caused certain guidelines to be rolled back and new restrictions put in place. You can read the entire guidance from ISBE here: https://www.isbe.net/Documents/Fall-2020-Learning-Rec.pdf
School reopenings and Governor's executive order. On Friday, July 24, Gov. Pritzker issued Executive Order 2020-47 pertaining to schools being allowed to reopen under Phase 4 of Restore Illinois. Under EO 2020-47, all public and nonpublic schools in Illinois serving Pre-K through 12th grade students may open for in-person educational purposes following the completion of the regular 2019-20 school term.
All public and nonpublic schools must follow IDPH and ISBE guidance during Phase 4. This means that they are expected to take proactive measures to ensure the safety of students, staff, and visitors. These measures include: 1. No school assemblies – the number of people in one space is limited to fifty or fewer. 2. No hallway crowding – schools should ensure compliance with social distancing requirements to the greatest extent possible. 3. Screen all persons allowed inside school buildings – including symptom screenings and temperature checks, or requiring individuals to self-certify that they are free of COVID-19 symptoms, before entering school buildings. 4. Mandatory hygiene – require washing hands with soap and water or using hand sanitizer, covering coughs or sneezes, discouraging the sharing of personal items, and regularly cleaning and disinfecting high-touch surfaces. 5. Facemasks – Requiring the use of appropriate PPE by students, staff, and visitors, including the use of face coverings by individuals who are over age two and able to medically tolerate a face covering. Schools must provide face coverings to all employees who are not able to maintain a minimum six-foot social distance at all times; and, to the extent possible, they must make face coverings available for all students.
Governor issues new guidance restricting youth sports
Gov. Pritzker announced new guidance this week restricting youth and adult recreational organized sports in Illinois. That includes school-based sports such as those governed by the IHSA and IESA, travel clubs, private leagues, recreational leagues and sports centers and Park District sports programs. Restrictions issued Thursday do not include professional sports leagues, or collegiate level sports. The new restrictions go into effect in mid-August.

The guidance was developed in coordination with the Illinois Department of Public Health (IDPH), the Illinois Department of Commerce and Economic Opportunity (DCEO), and the Illinois State Board of Education (ISBE).
The newly released guidance categorizes sports into three risk levels, low, medium, or high, based on the amount of contact between athletes and their proximity during play. The guidance sets four levels of play allowed based on current public health conditions.
In level 1, only no-contact practices are allowed and they must be outside.
In level 2, indoor and outdoor practices and intra-team scrimmages are allowed but there can be no competitive play.
In level 3 intra-conference, intra-region or intra-league play is allowed and there may be state- or league-championship games allowed for low-risk sports only.
In level 4, tournaments, out-of-conference play, and out-of-state play are allowed. State championship games would also be allowed in level 4.
Beginning Saturday, August 15th, low risk sports can be played at levels 1, 2, and 3. Medium risk sports can be played at levels 1 and 2, and high-risk sports can be played at level 1. Please see the guidance for youth and adult recreational sports document for more detailed information.
LOCAL GOVERNMENT
Local CURE aid program set to start up. The Local CURE program is intended to pass through COVID-19 relief funds appropriated by Congress for local governments. Under the Downstate portion of this program, at least $250 million in federal funds will be distributed to local governments if they can show the money will be spent for COVID-19 safety and relief.
The distribution of Local CURE Act money will be overseen by the Illinois Department of Commerce and Economic Opportunity (DCEO). Municipalities, counties, and certified local public health departments will be eligible to apply for the aid. The applicants will be required to show that they are spending the money on COVID-19 public health-related purposes.
SI SCHOOL SUPPLY DRIVE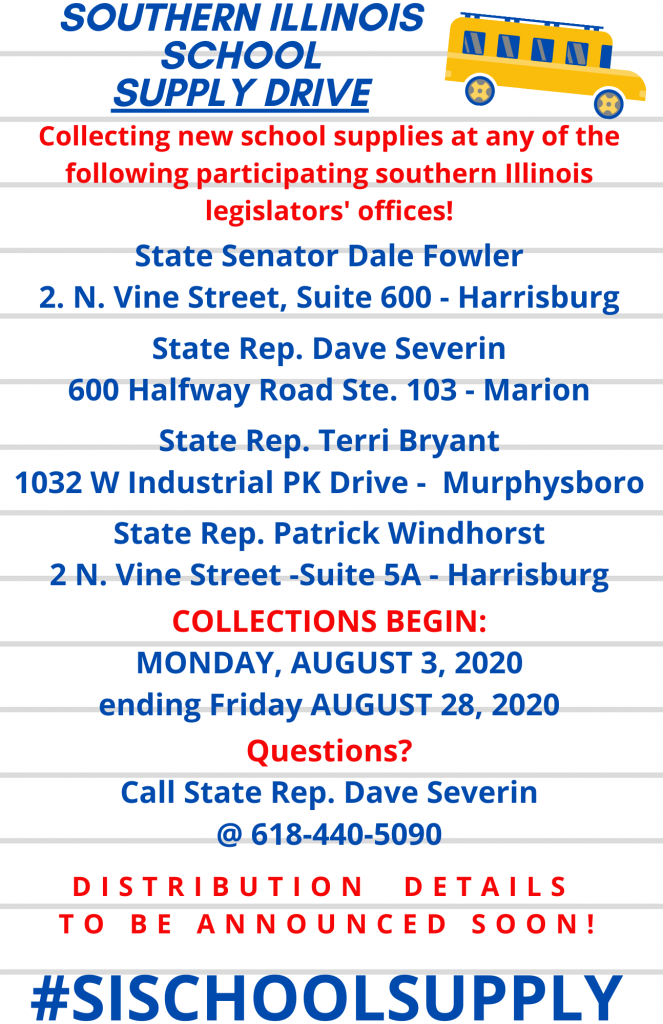 MARION BLOOD DRIVE AUGUST 10
MARION – State Representative Dave Severin (R-Benton) will host a blood drive at his office located at 600 Halfway Road on Monday, August 10 from 10:00 AM – 2:00 PM.
The blood drive will take place in the Mississippi Valley Regional Blood Center Donor Bus which will be parked in the parking lot of Rep. Severin's office.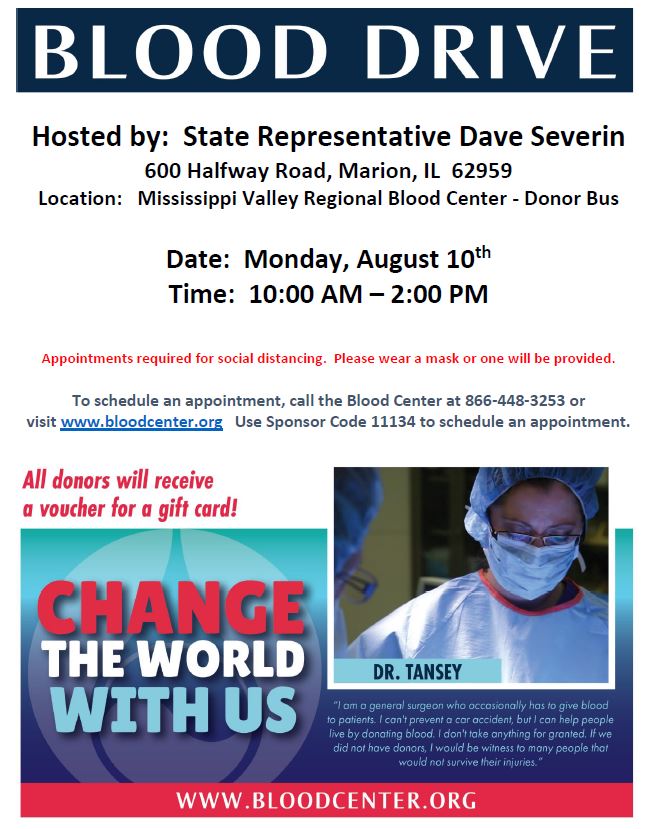 Appointments are required to maintain social distancing. Please wear a mask or one will be provided.
To schedule an appointment, call the Blood Center at 866-448-3253 or visit www.bloodcenter.org and use Sponsor Code 11134 to schedule an appointment.
###
Severin Summer Reading Club Kicks Off!
BENTON – State Rep. Dave Severin (R-Benton) announced this week that his 2020 Summer Reading program has begun. Rep. Severin says this year's summer reading program, like almost everything else, is a little different than previous years.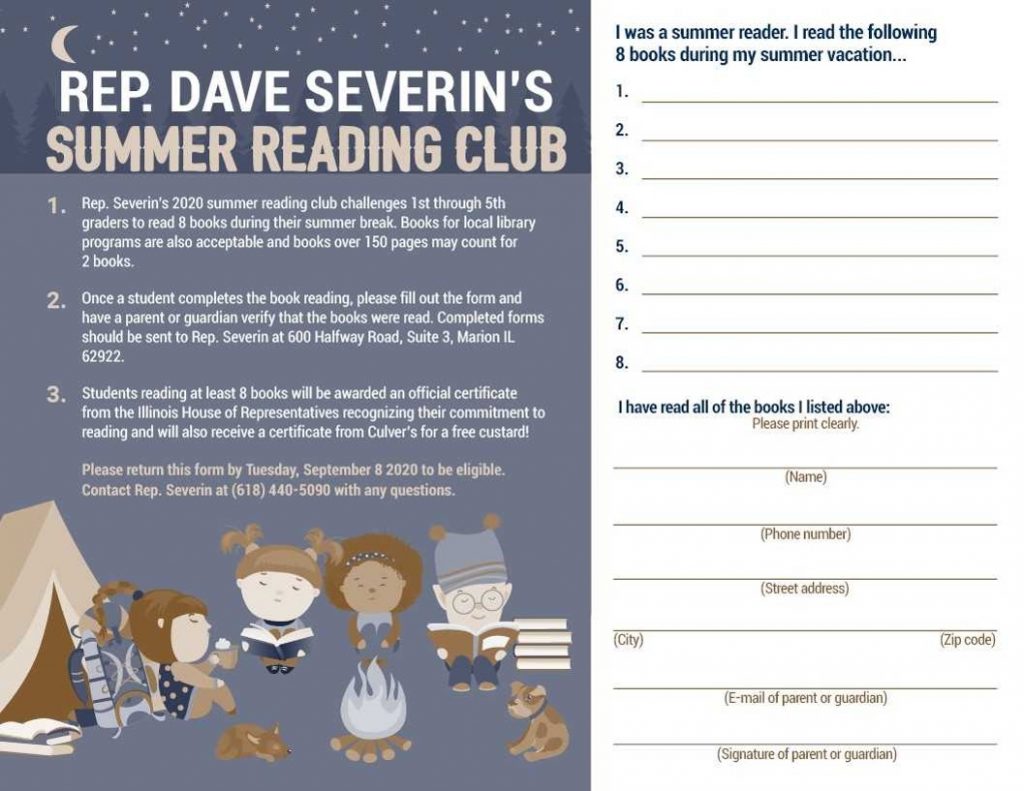 "This year, students were not in school when we usually send out the details for our summer reading club," Severin said. "To help out with the fact that libraries have been closed, we started a little later in the summer and extended the deadline for returning completed forms until after Labor Day."
Students in 1st through 5th grade that read 8 books between now and September 8, 2020, will be awarded an official certificate from the Illinois House of Representatives recognizing their commitment to reading as well as a coupon for a free Culver's custard.
"I want to thank Culver's for being a partner in helping promote this year's summer reading program," Severin said. "Although this year is a bit different, we're encouraging kids to read and to work to achieve a goal. Also – my wife Penny is a teacher in Benton, and she has convinced me this year to allow for Accelerated Reader (AR) books to count for Severin Summer Reading Club."
SUMMER READING CLUB FORMS CAN BE PRINTED BY CLICKING THIS LINK
Return completed Severin Summer Reading Club flyers to:
State Representative Dave Severin
600 Halfway Road – Suite 103
Marion, IL 62922
Stay Connected!
District Office
600 Halfway Road, Suite 103
Marion, IL 62959
(618) 440-5090

Springfield Office
208-N Stratton Office Building
Springfield, IL 62706
(217) 782-1051