Dear Friend,
I have been very bust traveling throughout the 117th district and to other parts of Southern Illinois in the last couple of weeks. I have been impressed, as always, by the character, resolve, innovation, volunteer spirit that I see from my constituents and fellow Southern Illinoisans on a daily and weekly basis.
From SIU Carbondale's awesome television broadcast studios to the Sparta student that won a scholarship for making a prom dress out of duct tape, this edition has a little bit of everything. Thank you for reading!
Touring SIU Carbondale's TV Station and Studios
I had a great time and learned a lot during a tour of SIU Carbondale's TV Studio facilities last week. What an awesome experience and a great program for SIU students to get their start in TV broadcasting.
SI School Supply Drive a Success
I want to say a big THANK YOU to local community members and to my fellow Southern Illinois legislators for helping make the 2020 S.I. School Supply Drive a success. We were also thrilled to partner with WJPF radio this year in promoting the supplies drive. This year, more than ever, we must work hard to support our students, teachers, and schools in general. Thank you to all those who donated. We will announce a time for the distribution of the materials coming up very soon.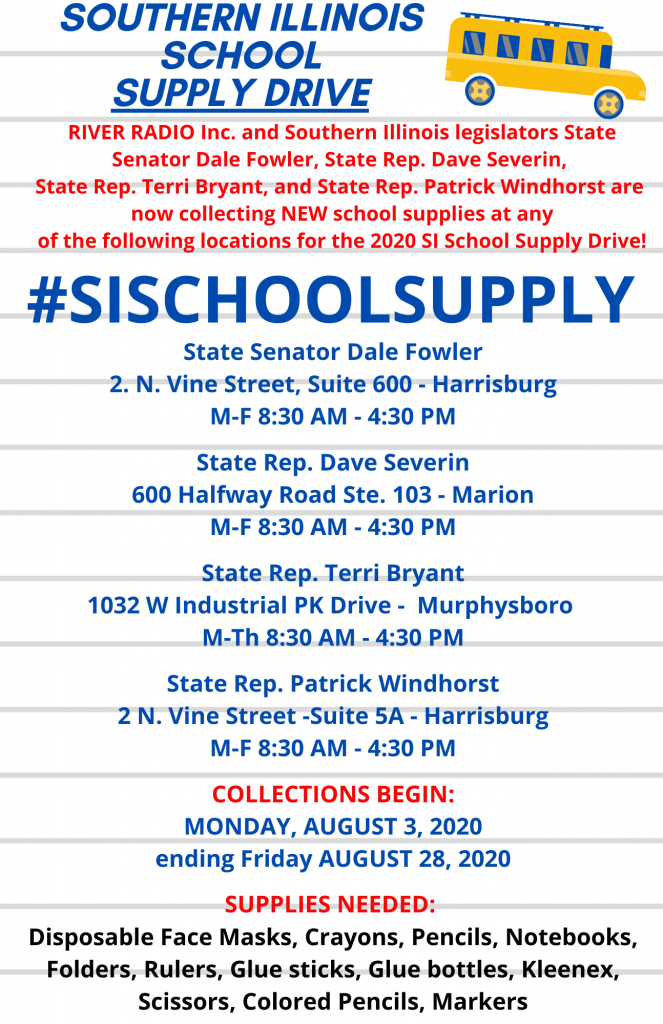 Supporting Franklin County 4-H
I am and have always been a big believer and supporter of 4-H. The local Franklin County Chapter of 4-H recently held their annual youth livestock auction fundraiser. I was happy to participate and will return again next year!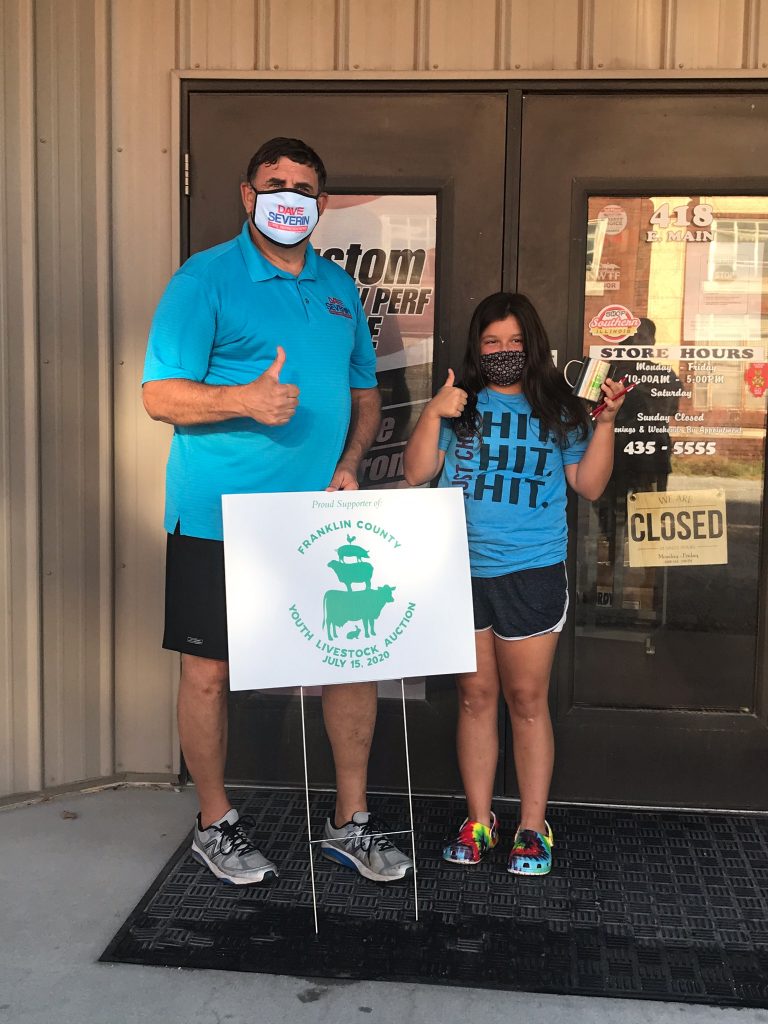 Backpacks for CASA – Court Appointed Special Advocates
I was very happy to donate several backpacks full of items to the Williamson County chapter of Court Appointed Special Advocates (CASA)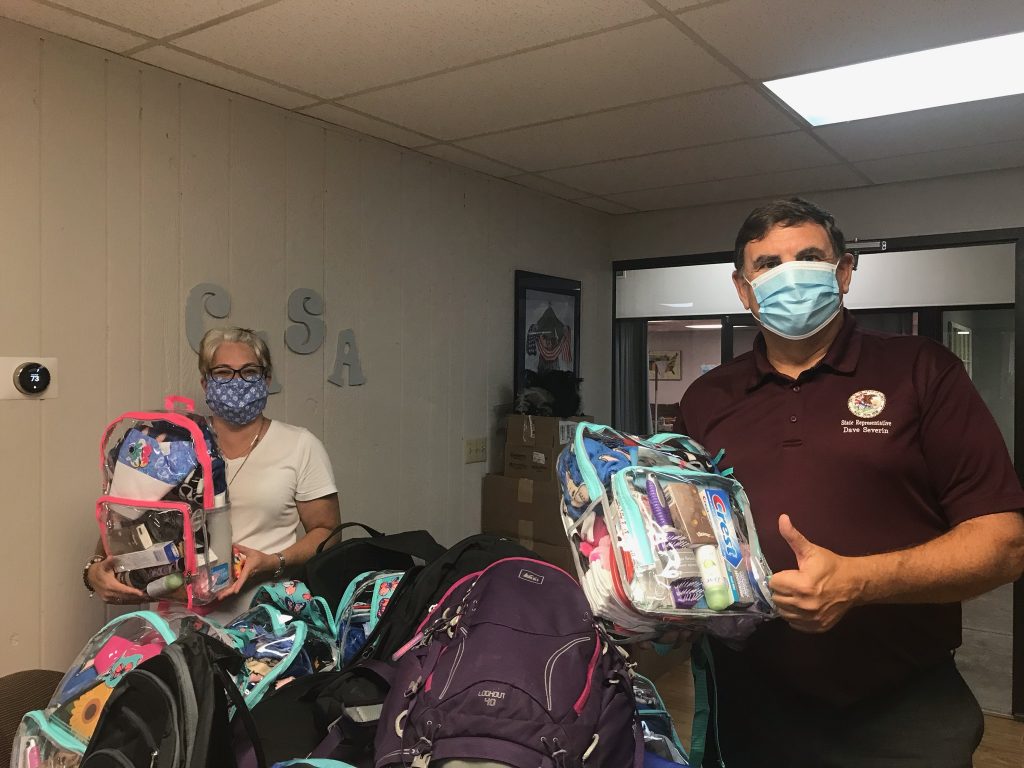 One of the true unsung hero groups of our communities are the members of any local county CASA chapter. CASA stands for Court Appointed Special Advocates. The work that these amazing volunteers do is truly remarkable.
They volunteer, they intervene, they are there to help children and families facing terrible circumstances and the stress and confusion that can result from interacting with the court system.
There are several chapters of CASA throughout the United States, the State of Illinois, and Southern Illinois. You can learn more at https://illinoiscasa.org/.
Sesser Student wins Scholarship with Pluck, Luck, and Duct Tape
I was happy to meet Miss Peyton Manker in Sesser recently. Peyton is a student at Sparta High School.
Peyton made an awesome video on how she created the design.
This story further reinforces my belief that Southern Illinoisans can fix just about anything with a little pluck, luck, and some duct tape.
House Republican Week in Review
Ethics – Joint Commission
COVID-19

Will and Kankakee Counties

Face coverings

Downstate – '217' area code
Energy – Exelon nuclear plant closures
Gambling – Sports betting
Seniors – Drivers' licenses
Week in Review
ETHICS
Illinois House and Senate Republicans Demand Meetings of Joint Commission on Ethics and Lobbying Reform Resume Immediately. The Republican Legislative Delegation to Illinois' Joint Commission on Ethics and Lobbying Reform held a Zoom video press conference on Monday morning demanding that Ethics Commission chairs take steps to resume meetings immediately. The four Republican lawmakers serve as commission members.
State Representative Patrick Windhorst led off by recounting the contents of a letter he and his colleagues submitted to the co-chairs of the Ethics Commission on July 23.
"We're now one month and one day removed from the day we sent a letter to the co-chairs of the commission asking for meetings to resume," Windhorst said. "There is an urgent need to get these meetings back on track so we can generate a report that leads to a real cleaning up of our laws. Our state is beyond needing so-called "ethics reforms". We need to pass a sweeping package of effective corruption reforms as soon as possible."
State Senator Dan McConchie says Governor Pritzker signed legislation allowing certain Illinois boards, commissions and committees to meet electronically. "On June 12, the Governor signed into law Public Act 101-0640, which amended the Open Meetings Act to allow meetings to be held by audio or visual conference without the physical presence of a quorum of members.
"Those potential legal barriers preventing us from meeting were removed by the Governor way back in June," said Sen. McConchie. "There is no reason why we continue to delay the people's work on this issue, especially during a time when corruption and unethical behavior looms over Springfield."
State Senator John Curran says a culture of corruption holds back progress on passing significant reforms and questioned how other committees and commissions are able to meet safely while the Ethics Commission remains inactive.
"JCAR has been holding in-person committee hearings safely during the pandemic and other committees are meeting virtually," said State Senator John Curran.
"Meanwhile, anyone watching or reading the news understands that Illinois state government is in the middle of a continuing ethical crisis. There is no reason for the ethics commission to be shut down right now, except to let corruption continue unabated."
State Representative Grant Wehrli says the need to reform Illinois' laws to stamp out corruption is needed now more than ever.
"From a legislative standpoint, nothing is more important right now than ethics reform," said Rep. Wehrli. "Commissions and committees are conducting their business safely, yet the Joint Commission on Ethics & Lobbying Reform remains dormant. There's no excuse for it. How many more indictments have to hit high-level elected officials in this state before Speaker Madigan and his leadership team finally take ethics reform seriously? I guess the answer is – at least one more. Maybe then Democrat leadership will step out of the shadow cast by Speaker Madigan and finally do the right thing for Illinois. It is time to resume our work, create our report, and most importantly, pass meaningful reforms to end corruption."
COVID-19
Illinois COVID-19 Region 7 placed under additional mitigation measures. Region 7 covers the two counties of Will and Kankakee, directly south of Chicago. As of Wednesday, August 26, places of public gathering in Region 7 are required to enforce additional guidelines aimed at preventing public contacts, especially indoors. These are meant to be tougher regulations than exist in other parts of the state, including the mitigation-affected Region 4 (Metro-East). The new measures include a ban on indoor dining and drinking. Restaurants and bars in Region 7 will be required to serve outdoors or on a to-go basis.
Illinois is now divided into 11 "Restore Illinois" regions for purposes of COVID-19 monitoring and guideline enforcement. The regions differ in size, population, and population density, with Region 6 covering twenty-one counties in eastern Illinois and Region 11, the smallest, being the same as the city of Chicago. Each region is being carefully monitored on a variety of COVID-19 metrics, with particular attention being paid to "positivity." This is the ratio of positive COVID-19 test diagnoses being made as a percentage of the total number of tests taken. A high positivity count, a rising positivity count, or both, are seen by public health experts as a sign that the coronavirus is active and spreading from person to person.
The Illinois Department of Public Health (IDPH) is recommending that if any region posts three consecutive days with a positivity rate higher than 8%, that the region be placed under Restore Illinois "mitigation measures." As of August 26, two regions, Region 4 and Region 7, have been placed under mitigation measures. These measures impose additional guidelines upon residents and businesses in these regions. These requirements are on top of the overall guidelines imposed on all Illinois residents statewide.
The additional mitigation measures imposed in Region 4 are buttressed by an August 18 Executive Order from Gov. Pritzker, EO 2020-51. The additional mitigation measures imposed in Region 7 are buttressed by an August 26 Executive Order from Gov. Pritzker, EO 2020-53.
Sharply toughened face coverings requirement in restaurants and bars throughout Illinois. The new rules refer to all periods of time when a customer is not actually eating or drinking. Examples of face-covering interactions include when wait staff is taking orders, when food or drinks are being delivered, when a table is cleared, and when a customer is picking up a carryout order. The new guidelines apply to all areas where food and drinks are served, indoors or outdoors.
Effective on Wednesday, August 26, the new rules are meant to protect food service employees. These employees are already required to wear face coverings when on duty, and the new rules have been set forth for the purpose of protecting workers and slowing the spread of the COVID-19 coronavirus. Food service workers account for a large subset of the 623,800 Illinois workers who were employed in the overall leisure and hospitality sector one year ago in July 2019. This sector has been sharply affected by the current pandemic. Even after Illinois moved to "Phase 4" in June, with some resumption of food serving activity, Illinois jobs had dropped in this sector by more than one-quarter relative to the year-earlier period. Only 459,800 Illinois workers were employed in this sector in July 2020, a decline of more than 160,000 jobs over the twelve-month period. This entire decline occurred during and after the start of the pandemic in March 2020.
DOWNSTATE
Central Illinois counties to get overlay area code in 2021. The announcement applies to all phone numbers located within the "217" area code, which is used in about one-quarter of Downstate Illinois. Starting in March, new phone numbers in the current "217" area may be assigned telephone numbers starting with the three digits "447." After the February 2021 transition takes place, all calls within the current 217 area code will have to be dialed using ten digits.
The move, performed by the Illinois Commerce Commission (ICC) in cooperation with the telecommunications industry, is a response to the pending exhaustion of seven-digit numbers within the "217" zone. Metropolitan areas within the "217" zone include Champaign-Urbana, Danville, Decatur, Quincy, and Springfield. The Peoria-Bloomington area, which is located within area code "309," is not affected by the change.
The ICC issued a public service announcement this week to remind people of this change, which has been pending since August 2006. Local telephone users will be able to use ten-digit numbers starting on Saturday, August 29. From August 2020 until March 2021, the switchover will be voluntary, and will be mandatory thereafter.
ENERGY
Exelon announces plans to close two nuclear-powered generating complexes in fall 2021. The Northern Illinois complexes are located in Byron, adjacent to the Rock River, and at Dresden, adjacent to the Illinois River. Exelon stated on Thursday, August 27 that the plants would close unless the company can get changes in Illinois law to enable them to remain open. Similar changes to State law, enacted in 2017, have enabled the continued operations of parallel nuclear power plants in Clinton and the Quad Cities.
Exelon, the parent holding corporation over Chicago-based Commonwealth Edison, reports that current electrical rates set by interstate grid consortium PJM Interconnection LLC do now allow the Byron and Dresden complexes to generate and sell electricity at prices that match what Exelon believes to be necessary to support safe operation. Exelon reports that the Byron and Dresden complexes, as a group, employ 1,500 full-time workers. PJM, a joint venture between many utility companies operating in the northeastern quarter of the U.S., is currently dominated by firms that burn natural gas to generate electricity. Natural gas turbines require a much smaller labor force than do nuclear power plants.
The Dresden nuclear power complex, which is now Illinois' oldest installation of this type, began operations in 1970 and is federally licensed to continue generating electricity through 2031. It can generate up to 1,800 megawatts of electricity for Illinois homes, offices, and workplaces. The Byron complex, which can generate up to 2,300 megawatts of electricity, began operations in 1985 and is licensed through 2046.
Simultaneously with the closure announcement, Exelon asked the General Assembly to consider immediate enactment of relief measures to enable the plans to continue to operate. While some observers expected the legislature to wait until the November 2020 veto session to begin to discuss these moves, Exelon also stated that their closure planning would have an immediate effect, starting this fall, on personnel policies and operational decisions at the plants. Up to 2,000 ancillary-personnel jobs associated with refueling the plants will be placed at immediate risk. These refueling cycles will be scaled back long before the scheduled start of the November 2020 veto session.
GAMBLING
In a change of position, Gov. Pritzker announces speedup in online sports betting registration procedures. The Illinois Sports Wagering Act, enacted in June 2019, took steps to divide the Illinois sports betting market up between existing Illinois casinos and the new, fast-growing nationwide gaming companies such as DraftKings and FanDuel that were beginning to dominate online sports betting on other states.
Towards this goal, the 2019 law asked those Illinoisans who would soon want to place bets on sporting events to go to a physical location (typically, a riverboat casino) and register their identity in person. This was both a security/identity-theft-prevention move, and a move intended to strengthen the market shares of these casinos and other places with an established Illinois presence. Legislators knew that Illinois brick-and-mortar casinos employ Illinois workers, while the big nationwide electronic bet shops are not required to have any workers in Illinois.
After the 2019 law was passed, two additional things then occurred. First, the 2020 coronavirus pandemic made many Illinois residents unable to go to a physical location to register their identities as sports bettors. Second, many Illinois riverboat casinos have either taken steps to set up nationwide or worldwide sports betting electronic platforms on their own, such as BetRivers/Rush Street Gaming, or are developing affiliation relationships with the established platforms such as DraftKings and FanDuel. For example, DraftKings now has an affiliation relationship with the East St. Louis-based Casino Queen riverboat.
Changes in executive rule, set forth by Gov. Pritzker on Friday, August 21, have lifted the requirement that Illinois residents who want to become legal sports bettors have to register in person. The new rules are seen as clearing the path for full online sports betting, led by nationwide corporations with established brand name identities, within Illinois.
SENIORS
One-Year Extension of Driver's License Expiration for Seniors Age 75+. The Illinois Secretary of State announced that the expiration date for valid driver's licenses held by Illinois drivers who are 75 years of age or older has been extended for a period of one year past the licenses' current 2020 expiration date. As a result, drivers age 75 and older with a 2020 driver's license expiration date do not need to visit a facility to renew their driver's license until shortly before their birthday in 2021.

There are approximately 147,000 drivers age 75 and over with expired or expiring driver's licenses in 2020. Letters are being sent to drivers that qualify for this extension. The letter should be kept with the qualifying driver as further proof of the one-year extension. In addition, driving records on the Secretary of State's computer system have been updated to show the new 2021 expiration dates for qualified drivers, and law enforcement agencies both state and nationwide have been notified of the extended expiration dates.

In addition to being 75 of age or older, the driver must have a valid license; drivers who are suspended or revoked do not qualify for the one-year extension.

All other expiration dates for driver's licenses/ID cards and license plate stickers have been extended until Nov. 1, 2020. As a result, expired documents will remain valid until Nov. 1 so customers under age 75 do not need to rush into Driver Services facilities, especially during hot weather.

For those customers who must visit a facility, face masks are required. In addition, these customers are asked to be patient due to heavy volume and to be prepared to wait outside in various types of weather. This is due to social distancing, which limits the number of people inside a facility at one time.

The public is urged to consider using online services when possible instead of visiting a facility due to heavy customer volume. Customers who can conduct business online may go to www.cyberdriveillinois.com to take advantage of online services – such as renewing license plate stickers – from the comfort of their own home. People who conduct online transactions will avoid waiting in line at a facility.
STAY CONNECTED!
Get the Week in Review emailed directly to your inbox! Sign up today to get a first-hand look at the continuing legislative and fiscal challenges facing policymakers in Springfield.
District Office
600 Halfway Road, Suite 103
Marion, IL 62959
(618) 440-5090

Springfield Office
208-N Stratton Office Building
Springfield, IL 62706
(217) 782-1051