SPRINGFIELD – Benton native and 117th District State Representative Dave Severin took the oath of office to serve another term in Springfield during Inaugural ceremonies on Wednesday, January 13, 2021. Wednesday's swearing-in marks the beginning of Severin's third term in the House after first being elected in November 2016. Representative Severin released the following statement.
"I was honored to raise my hand to swear my allegiance to the Constitutions of the United States and the State of Illinois during Inaugural ceremonies in Springfield this week. The trust placed in me by the people of the 117th district brings with it a great amount of responsibility, especially at this historical crossroads in Illinois history.
I was in the House when Speaker Michael J. Madigan's nearly 40-year reign as Speaker ended.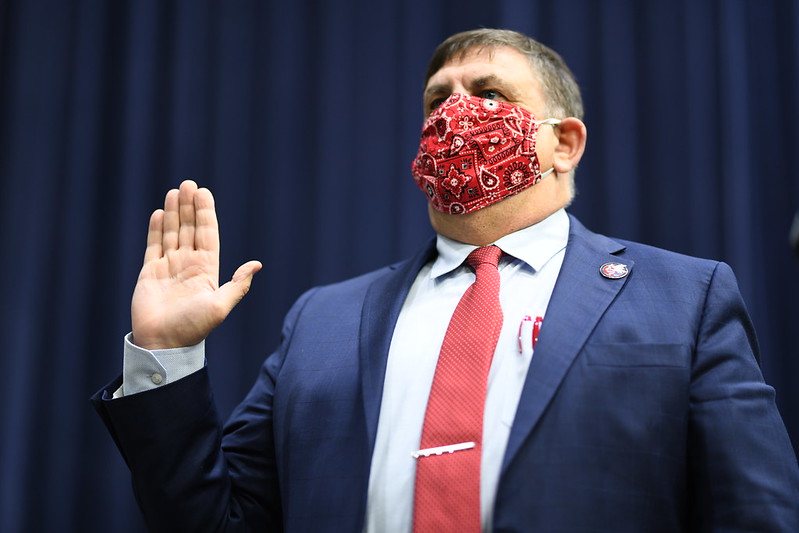 I also want to express my sincere congratulations to incoming House Speaker Emanuel "Chris" Welch. Speaker Welch will serve as Illinois' first African American House Speaker, a significant historical change that I hope begins a new era of politics and cooperation in Illinois.
In my third term, I will continue to sponsor legislation to clean up corruption, strengthen our ethics laws, and restore public confidence in state government. I will also continue to stand up for our Constitutional rights, while opposing attempts to spend money the State of Illinois does not have.
We must restore financial stability and sanity in Springfield. The only way we can do that is to acknowledge the real situation we find ourselves in and stop passing bills that amount to empty promises. We owe the people of this state more transparency and a better process.
I want to thank my wife Penny, my family, the citizens of the 117th district, and the entire Southern Illinois community for the faith you have placed in me and for this awesome responsibility. God bless you, God Bless Illinois, and God Bless the United States of America!"