SOUTHERN ILLINOIS – On Tuesday, January 26, 2021, six southern Illinois Republican lawmakers hosted a first of its kind virtual town hall meeting live on Facebook to highlight their concerns with a criminal justice reform package passed during the recent lame-duck session of the Illinois General Assembly. Multiple law enforcement groups opposed HB 3653. Opponents included Illinois Fraternal Order of Police, Illinois Sheriffs' Association, and the Illinois Association of Chiefs of Police.
The Republican State Senators and State Representatives' presentation to the Facebook live audience highlighted a rushed process they say has resulted in a dangerous, confusing, and potentially inoperable package of reforms.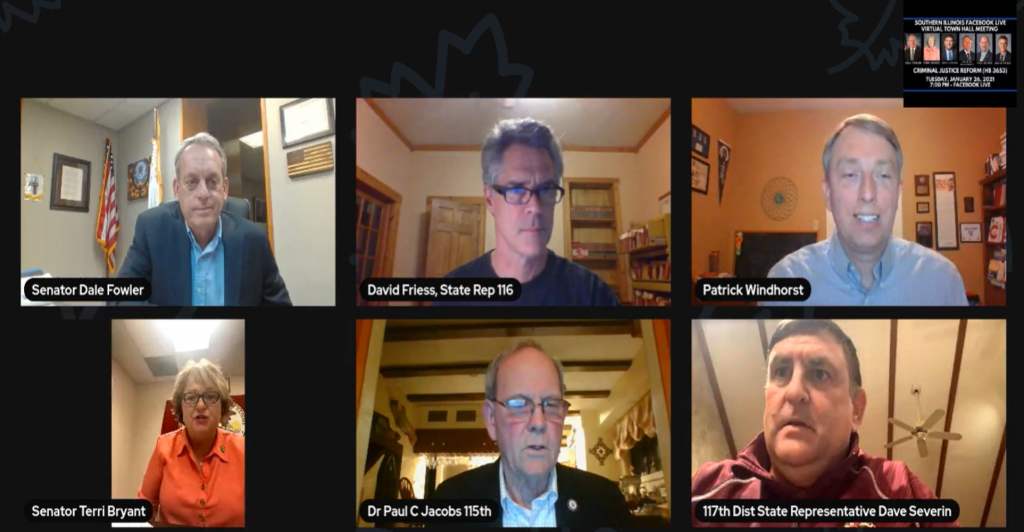 In the late hours of the night and early hours of the morning on the last day of the 101st General Assembly resulted in the passage of legislation that State Rep. Patrick Windhorst (R-Metropolis) says has intended and unintended consequences.Rep. Windhorst addresses the media during a Wednesday press conference where he and House Republican Leader Jim Durkin urged Illinoisans to sign their petition urging Gov. Pritzker to veto HB 3653.
"What we're hearing is that this legislation will make police officers' jobs much more difficult, and make all Illinois communities less safe," Windhorst said. "As the lead questioner of the bill's sponsor on the day the bill passed, I can confirm that the sponsor, Democrat staff, the witnesses that spoke in committee on behalf of the bill and unfortunately the people of Illinois still to this day do not know or appreciate the practical impacts this sweeping criminal justice reform package will have."
The Southern Illinois Republican lawmakers met as a group with officials from the Illinois Sheriffs' Association and the Illinois Association of Chiefs of Police via Zoom this week to hear concerns from police officials prior to the Tuesday night town hall meeting.
State Representative Dave Severin (R-Benton) says he is working to inform as many people as he can in partnership with his fellow Republican lawmakers throughout Illinois that the final remedy to stop HB 3653 is for Governor JB Pritzker to veto the legislation.
"Knowing what we know, and all the things that we still don't know about this sweeping criminal justice reform bill, I feel the only responsible thing for the governor to do is veto HB 3653," Severin said. "Police officers in the communities that I represent are worried that they will not be able to effectively perform their duties without serious legal repercussions. That makes everyone less safe."
Newly minted 116th district State Representative David Friess (R-Red Bud) is concerned about the high costs of unfunded mandates contained in the legislation and the impact on rural communities.
"With municipal budgets already strapped for money because of the economic shutdowns that occurred as a result of the governor's shut down orders and continuing mitigations, I'm hearing from local officials that there is simply no money to pay for the numerous unfunded mandates in HB 3653," Friess said. "Our police officers are happy to wear body cameras on the job. In fact, body cameras provide officers a level of protection when body camera footage can be used to justify their actions. When smaller police departments are required to buy cameras, pay for indefinite storage of video footage, and hire more staff to handle FOIA requests, the state needs to come through with funding for those mandates. Beyond the financial impact of the body camera requirements, this legislation also bars police officers from reviewing their own body camera footage prior to writing a report. A supervisor must now review the footage first. The numerous law enforcement officials I've spoken to have specifically mentioned this provision of HB 3653 as being particularly unworkable."
State Representative Paul Jacobs (R-Pomona) took the oath of office as 115th District State Representative on January 13, 2021. Jacobs says his preliminary impressions of the legislative process leave him worried for the future of Illinois.
"HB 3653 was amended at 3 o'clock in the morning, passed the Senate at 4:00 AM and passed the House at 11:30 AM on the final day of the 101st General Assembly. Passing legislation of this magnitude in the dead of night with no public input and no scrutiny means we have a flawed bill on the governor's desk," Jacobs said. "This is the time for Governor Pritzker to send a message that he stands with our law enforcement officers, he stands for transparency, and he stands for safety in our communities. Governor Pritzker, veto HB 3653!"
The lawmakers have all sponsored a petition effort they are proliferating on social media and to concerned constituents. To sign the petition urging Governor JB Pritzker to Veto HB 3653, concerned citizens may visit www.ilhousegop.org/keep_our_families_safe
Citizens may also contact Governor JB Pritzker via phone to urge him to veto HB 3653. The governor's office can be reached in Springfield at 217-782-0244 or 217-782-6830 or 217-782-6831 or in Chicago at312-814-2121 or 312-814-2122.
###