BENTON – This week, State Rep. Dave Severin (R-Benton) led a bipartisan coalition of legislators and education advocacy groups requesting the loosening of restrictions on fan and audience attendance at extracurricular activities imposed by Governor JB Pritzker and the Illinois Department of Public Health as part of the administration's COVID-19 response.
SIGN THE PETITION HERE: www.ilhousegop.org/fans
"Let the fans back in, let parents and siblings and students in the door and in the stands," Severin said. "25% is a start. We thought we could get the Governor to agree because this is a very reasonable request. The evidence of that is along with my Republican colleagues, seven members of the House Democratic Caucus, the IHSA, Illinois Association of School Boards, Illinois Principals Association, Illinois Association of School Administrators, and Illinois Athletic Directors Association all signed the letter. Now, I'm asking people to sign the petition. We need to get the Governor's attention and I'm going to keep pushing until we get him to grant our request or give us a good reason for denying it."
Severin is encouraging his constituents to sign the Let the Fans In petition demanding Governor Pritzker and IDPH allow at least 25% capacity at all indoor and outdoor extracurricular activities for the rest of the school year.
"As coronavirus cases continue to decline and more people are vaccinated, I am confident our school districts can manage at least 25% capacity going forward. It makes no sense that indoor and outdoor school venues across the state sit empty when our schools have shown an amazing ability to adapt and keep students and staff safe. It is time to let the fans in!"
The petition gathered 3500 signatures in its first 24 hours.
###
Here's the letter: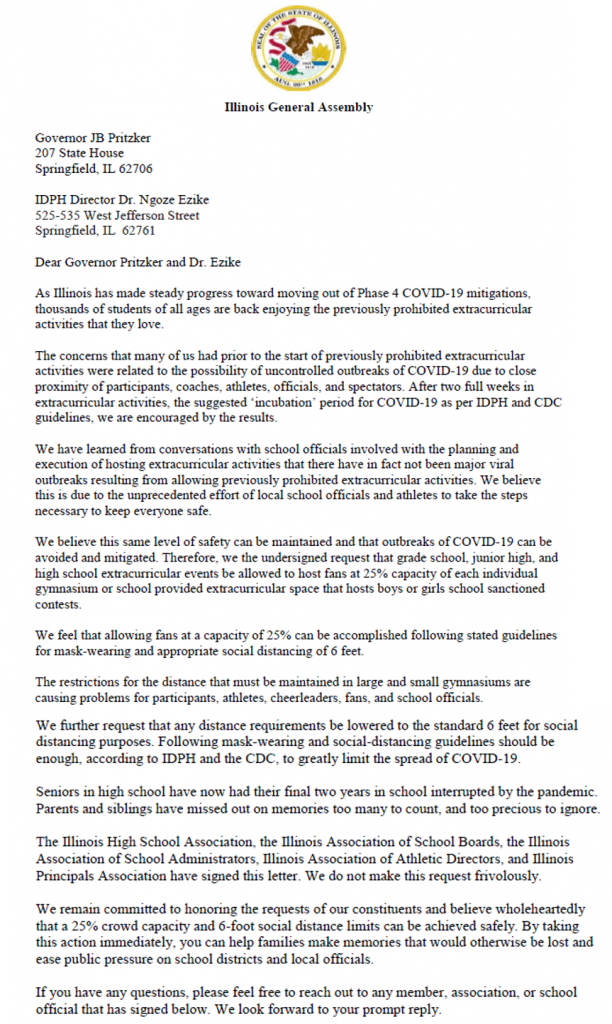 Signers:
Dave Severin State Representative – 117th
District
Dr. Thomas Bertrand, Executive Director Illinois Association of School Boards
Dr. Brent Clark, Executive Director Illinois Association of School Administrators
Dr. Jason E. Leahy, Executive Director Illinois Principals Association
Mike Morris, Executive Director Illinois Athletic Directors Association
Craig Anderson, Executive Director Illinois High School Association
Neil Anderson State Senator – 36th District
Chapin Rose State Senator – 51st District
Terri Bryant State Senator – 58th District
Dale Fowler State Senator – 59th District
Bradley Stephens State Representative – 20th District
Nicholas K. Smith State Representative – 34th District
Jaime M. Andrade, Jr. State Representative – 40th District
Amy Grant State Representative – 42nd District
Seth Lewis State Representative – 45th District
Chris Bos State Representative – 51st District
Martin McLaughlin State Representative – 52nd District
Thomas A. Morrison State Representative – 54th District
Martin J. Moylan State Representative – 55th District
Tom Weber State Representative – 64th District
Maurice A. West, II State Representative – 67th District
Steven Reick State Representative – 63rd District
Tony McCombie State Representative – 71st District
Ryan Spain State Representative – 73rd District
Daniel Swanson State Representative – 74th District
Jackie Haas State Representative – 79th District
Anthony DeLuca State Representative – 80th District
Lawrence Walsh, Jr. State Representative – 86th District
Tim Butler State Representative – 87th District
Andrew S. Chesney State Representative – 89th District
Norine Hammond State Representative – 93rd District
Randy E. Frese State Representative – 94th District
Mike Murphy State Representative – 99th District
Dan Caulkins State Representative – 101st District
Brad Halbrook State Representative – 102nd District
Mike Marron State Representative – 104th District
Dan Brady State Representative – 105th District
Thomas M. Bennett State Representative – 106th District
Charlie Meier State Representative – 108th District
Chris Miller State Representative – 110th District
Amy Elik State Representative – 111th District
Paul Jacobs State Representative – 115th District
David Friess State Representative – 116th District
Patrick Windhorst State Representative – 118th District