Dear Friend,
This week's edition of Severin Says has important news and notes that you need to know from the 117th district and beyond! I've got information for local governments on the recently made available ARPA grant funding from the State of Illinois, a reminder to Summer Readers that this year's deadline to submit completed forms is July 30, an update on school reopening rules, a look at rampant unemployment fraud, and much more. If I can ever be of service to you, please do not hesitate to contact my Marion office at (618) 440-5090 or email me at Severin@ILHouseGOP.org.
Southern Illinois Republican State Reps. Remind Students Summer Reading Program Deadline Approaching
SOUTHERN ILLINOIS – Rep. Dave Severin and Rep. Patrick Windhorst and Rep. Paul Jacobs are reminding first through fourth grade students residing in the 115th, 117th, and 118th State Representative districts that the deadline to return completed summer reading club forms is this Friday, July 30.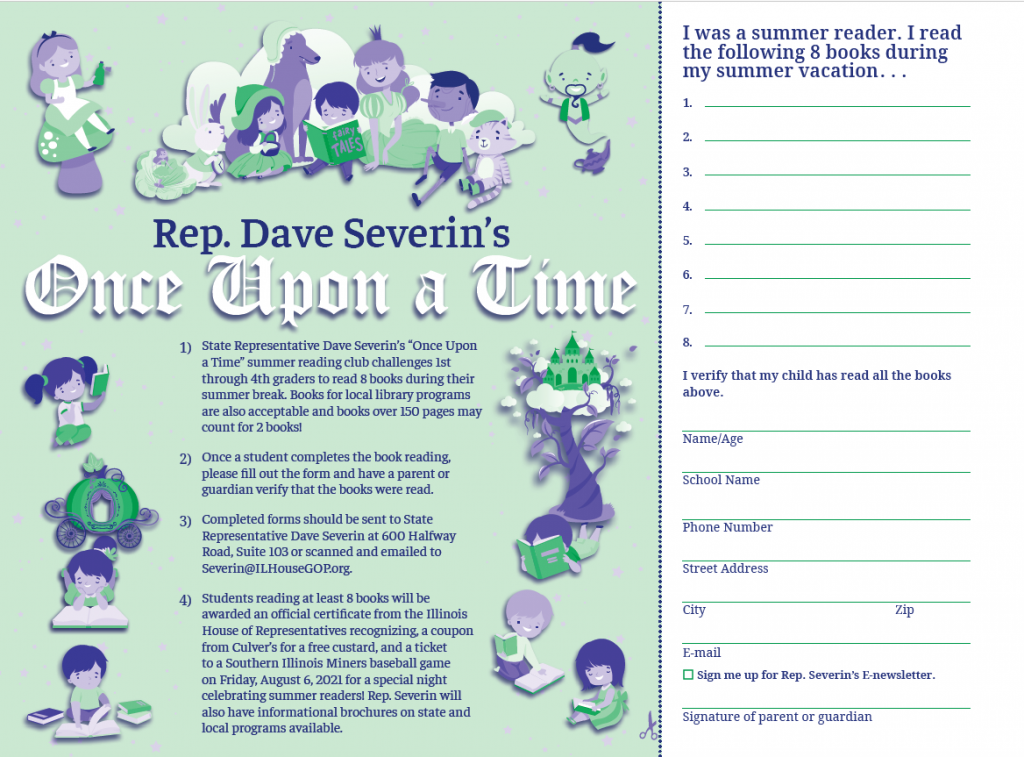 Students in 1st through 4th grade that read 8 books this summer will be eligible for an official Certificate of Congratulations from the Illinois House of Representatives, a coupon for a free small custard, and one free ticket to a Southern Illinois Miners baseball game at Rent One Park in Marion on Friday, August 6th, 2021.
To download a printable form, students may visit any of the Representatives' websites or contact any of the Representatives' offices. The legislators' websites are RepPaulJacobs.com, RepSeverin.com, and RepWindhorst.com
###
ARPA Relief Funds – Grant applications for municipalities under 50,000 population are being accepted through DCEO through September 30, 2021.
Attention local governments! Starting Thursday, July 22, 2021 eligible local governments in Illinois will be able to claim over $742 million in federal American Rescue Plan Act (ARPA) funds. These funds may be used to cover revenue losses, the costs of responding to the COVID-19 public health emergency, and invest in certain infrastructure projects. These grants are only available to municipalities considered Non Entitlement Units (NEU) with less than 50,000 population. To determine eligibility, local government units considered NEU (Non Entitlement Units) may visit https://grants.illinois.gov/neu/.
Local government units can learn more at https://www2.illinois.gov/dceo/CURENEU/Pages/default.aspx
Illinois begins to phase out moratorium on evictions
Under Anglo-American law, the courts possess a variety of powers to use when someone living in a residential property does not fulfill the terms of his or her contract. One of these powers is eviction. In March 2020, when the COVID-19 virus appeared in Illinois, Gov. Pritzker issued a series of emergency orders and decrees. One of these orders forbade Illinois court clerks from accepting paperwork filings for eviction proceedings with respect to residential properties. This created an "eviction moratorium." Since that time, and for the duration of the coronavirus pandemic, the vast majority of Illinois renters have paid rents voluntarily. A few renters have skipped payments and let back rents pile up, with injury to landlords. Most rental properties are mortgaged or encumbered in various ways, and landlords have to keep up their own payments even if less money is coming in at the front end.
As the pandemic transitions to a new phase, Illinois court clerks will once again accept filings of new eviction cases on August 1, 2021. Although the Illinois eviction moratorium is coming to an end, this does not mean that the sheriff will show up at the front door in August. The moratorium is transitioning into a "workout window." For thirty days, enforcements of new eviction cases will be stayed. During this period, the courts will refer landlords and tenants to workout programs. These programs are designed to look at a tenant's actual income and to refer all parties into a program of mandatory, enforceable payments in settlement. The Illinois Supreme Court is overseeing the implementation of this workout window.
SCHOOLS – Illinois moves back towards in-person classrooms; districts to decide on facemasks
In line with a recent guidance published by the federal Centers for Disease Control and Prevention (CDC), the Illinois State Board of Education (ISBE) and the Illinois Department of Public Health (IDPH) have both taken steps to recommend that Illinois's K-12 local school boards fully reopen schools for in-person learning for the fall 2021 term. This will largely end the remote learning-from-home situation that prevailed during the height of the COVID-19 pandemic.
The recommendations take pains to maintain conditions of physical safety for students and faculty. The series of COVID-19 vaccines being administered to older children age 12 and up, and to adults, have not yet been approved for use with younger children. The CDC recommends, but does not require, that individuals who are not fully vaccinated against coronavirus, including children, should wear facemasks indoors at all times. School boards will decide their face covering policies on a district-by-district basis.
Unemployment insurance fraud assessed at $15 million, with much higher losses likely.
During the pandemic layoff spike of 2020-2021, hundreds of thousands of Illinoisans filed for unemployment insurance benefits from the Illinois Department of Employment Security (IDES). Mixed in with these filings were an unknown number of fraudulent claims. In some cases, claims were filed in bad faith by people who had not actually lost their jobs. Other applications were filed by fraudsters who had stolen the identities of real people and committed identity theft. Parallel patterns were seen in all 50 states.
Now, even IDES admits that their own count shows that at least $14.8 million in fraudulent claims have been paid out. Under current State law, these losses must be made up for by employers and future unemployed and working people. Experts say this IDES-reported loss is likely to be only a fraction of the actual total.
The U.S. Department of Labor estimates that more than $63 billion in improper UI benefits were paid out during the pandemic. Extrapolated to the 12.7 million people of Illinois, this could mean that the true figure for IDES could be more than $2 billion in improperly paid out UI benefits. Preliminary information from other states tends to confirm the assertion that billions of dollars have been wasted or lost. California's unemployment insurance agency is said to have lost $11 billion due to fraud.
One way to reduce UI fraud is to steer benefit applicants into in-person interviews in UI offices, where applicants can present documentation of their claimant status. As the State agency with responsibility over the UI program, IDES has a staff of interviewers who are paid to carry out this job. However, IDES continues to refuse to reopen its offices to non-employee Illinois residents for interviews. Citing what the agency believes is continued threats from terrorist violence, the Department – backed by Gov. Pritzker – have kept local offices closed. Illinois' UI claimants continue to be required to submit electronic documentation via online portals, a process that frustrates many applicants but does not dismay cyber-skilled fraudsters in the least.
House Republicans, led by Representative Joe Sosnowski, have repeatedly called upon IDES to reopen its offices, stop electronic fraud, and help Illinoisans in person. The Department has so far refused to respond to this request.
Preparations begin for 2021 deer hunting cycle.
Especially important to hunters is limited public access to deer hunting opportunities on private land through the Illinois Recreational Access Program (IRAP). Access to IRAP slots is limited to successful online applicants. The application process is separate for youth hunters and adult hunters. A deer-hunting license and the relevant permits are required.
Parallel licensure, permitting, and conditions requirements are imposed upon applicants for adult IRAP archery deer permits. The IRAP program has leased access to 323 public access deer hunting sites on 39 counties across Illinois. These sites stand on 13,365 acres of privately-owned deer habitat, leased to IRAP for the purpose of this program. IARAP applicants must be submitted online no later than the close of business on Friday August 13, 2021.
Illinois athletes prepared for Tokyo Summer Olympics.
The international athletic tournament was postponed from 2020 to 2021 because of the global pandemic. Despite the delay, the United States Olympic Committee is sending a team to the Olympics. The Summer Games have been held at least once in every four-year period since 1896, with two breaks for World War I and World War II. Athletes who stayed in training for the delayed Tokyo Games will experience an unusual event, with events fully televised but few fans in the spectator stands.
The U.S. Olympics Team includes many Illinois and former Illinois residents. They will compete in individual and team events that include baseball, basketball, cycling, equestrian sports, fencing, gymnastics, judo, rowing, rugby, sailing, soccer, swimming, tennis, track and field, volleyball, and wrestling. Opening ceremonies are being held on Friday, July 23.
TRANSPORTATION – Full Amtrak service resumes
Since shortly after the stay-at-home orders of March 2020, the passenger train network Amtrak has operated a limited schedule throughout Illinois. In summer 2021, with increasing demand for seats, Amtrak has announced that it is resuming full schedules on its Illinois Services effective on Monday, July 19.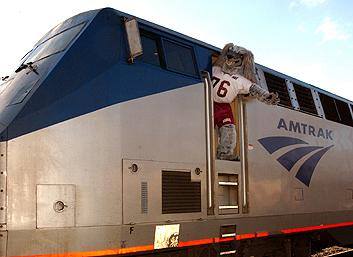 Much of Amtrak's schedule are Illinois Services, which are passenger trains operated in cooperation with the Illinois Department of Transportation (IDOT). Amtrak-IDOT trains go back and forth daily between Chicago and Carbondale, Chicago and Quincy, and Chicago and St. Louis. The trains stop at major stations along the way, including Champaign-Urbana, Mattoon, Joliet, Bloomington-Normal, Springfield, Alton, Galesburg, and Macomb. The Amtrak announcement does not affect interstate trains that go back and forth between Illinois and locations other than St. Louis within other states.
###