Dear Friend,
This week I want to share with you some of my thoughts for what may be coming next week during the 2021 Veto Session of the 102nd General Assembly. On Friday, House and Senate Democrats released their first draft of new United States Congressional District maps that will take effect in January 2023 after the November 2022 General Elections. It is widely expected that Democrats will call and pass the legislation that creates new Federal Congressional districts during the first week of Veto Session. I joined with my fellow colleagues from Southern Illinois in criticizing the severely partisan process that lead to the maps being released with just four days to go until a potential vote.
There are also two BIG issues gaining attention in the media. First, House and Senate Democrats and Governor Pritzker have signaled there may be some kind of effort coming to repeal the requirement of parental notification before minor children can receive abortion services or other major medical care. I firmly oppose this change! Another big topic for Veto Session could be the Governor's desired changes to the Health Care Right of Conscience Act that allows for religious and other exemptions. Current law bars discrimination in medical care based on someone's religious beliefs.
I have much more on these topics and photos from the last couple weeks in this 'Veto Session Preview Edition' of Severin Says!
Veto Session Preview – Possible Topics Include Parental Notification Repeal, Changes to Health Care Right of Conscience Act, New Congressional District Maps
There is much speculation that Illinois Democrats will work to pass legislation to eliminate the requirement that health care providers notify the parents of minor children prior to receiving an abortion or other major medical procedure during the upcoming Veto Session.
Illinois already has some of the least restrictive laws of any state in the country for who can get an abortion, when someone can get an abortion, and taxpayer funding of abortions. that can be performed up to and including the moment of birth. I strongly and unwaveringly oppose this idea and will be voting NO on any attempt to further remove parents from health care decisions involving their children.
Potential Changes to the Health Care Right of Conscience Act (HCRCA)
For over a year and a half now, Governor Pritzker has refused demands by Republicans that he work with the legislature to manage the State of Illinois' response to the COVID-19 pandemic. The governor has been successful in fighting back legal challenges to his emergency power and authority in most, but not all cases. Illinois' current Healthcare Right of Conscience Act is seen by Governor Pritzker as a hurdle that stands in the way of him being in absolute control of the state's COVID response.
In light of Governor Pritzker's vaccine mandates for school teachers, some individuals have filed lawsuits citing the 1998 Healthcare Right of Conscience Act, and a provision in the law that allows exemptions from such mandates citing religious objection.
The HCRCA prohibits "all forms of discrimination, disqualification, coercion, disability or imposition of liability upon such persons or entities by reason of their refusing to act contrary to their conscience or conscientious convictions in providing, paying for, or refusing to obtain, receive, accept, deliver, pay for, or arrange for the payment of health care services and medical care."
Governor Pritzker has indicated he favors changing these protections, calling the law 'outdated' in a recent press conference. It would take a new law being passed in order for the governor to get his way. The potential move is seen as a way for the Pritzker Administration to protect its right to mandate health care procedures and vaccines to aid in its defense in pending lawsuits. The governor may ask supermajority Democrats to give him legal cover by changing the law. This would also be the first time the legislature has weighed in on changes to any laws governing the COVID-19 pandemic medical and public safety response. I find it quite disgusting to think the legislature would hand even more power to Governor Pritzker after we have already lived under 19 months of continuous rule by Executive Order.
Southern Illinois Republican Legislators Say New Congressional Maps Focus on Protecting Speaker Nancy Pelosi's Thin Majority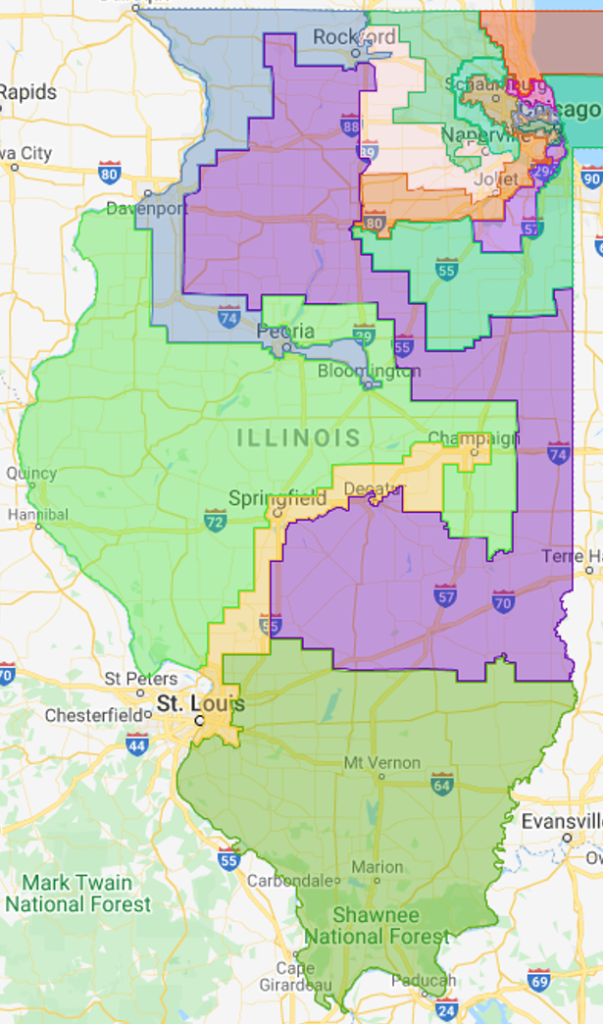 SOUTHERN ILLINOIS – Federal Congressional districts in the State of Illinois would look a lot different for the next ten years if the most recent draft of new maps stays in place. Illinois House and Senate Democrats have released new drafts of US Congressional district maps that would be in effect after the November 2022 elections when a new Congress is seated in January 2023. The new draft maps draw together two Republican incumbent members of US Congress and would create a geographically massive new district in Southern Illinois. Southern Illinois Republican State Representatives Dave Severin, Patrick Windhorst, and Paul Jacobs are sounding off in opposition to the process and what they call a severely gerrymandered product.
"The newest Illinois draft US Congressional maps represent an unprecedented effort to protect the political power of Nancy Pelosi and failing Washington Democrats," Rep. Dave Severin (R-Benton) said. "As a member of the House Redistricting Committee, I have serious concerns with the lack of transparency in the process that led to the release of today's draft maps. Democrat politicians in Illinois seem willing to go to any length to protect their political power. These newly proposed maps are aimed at protecting state and national Democrats' political power and would unfairly disenfranchise voters in Southern Illinois."
State Rep. Patrick Windhorst (R-Metropolis) says the lack of popularity of Democrat President Joe Biden's $3.5 trillion "Build Back Better" spending plan, runaway inflation, backlogged supply chains, a lack of availability of common commercial goods, and the President and Nancy Pelosi's sinking poll numbers means the Washington Democrats slim minority is in jeopardy next November.
"Illinois Democrats in the General Assembly are aware of the unpopularity of the President and US Congressional leaders like Nancy Pelosi and leftist-progressives," Windhorst said. "The gerrymandering in this map is on full display for all to see. From creating one massive geographic district for all of Southern Illinois to drawing Republican incumbents together, to the closed-door process that led to today's maps being released, Democrats in Springfield are doing all they can to protect unpopular and failing Democrats in Washington."
State Rep. Paul Jacobs (R-Pomona) says he believes Illinoisans are growing weary of the heavy-handed political tactics used by Springfield and Washington Democrats to ensure their political power.
"Illinois Democrats' goal seems to be the complete and total obliteration of the Republican party using the map-making process," Jacobs said. This is quite simply an all-out effort to protect Nancy Pelosi's Speakership. Washington Democrats' policies have opened our borders to criminals, drug dealers, and human traffickers. Prices of everything are skyrocketing due to Joe Biden and JB Pritzker's unworkable and outrageous energy policies. Our standing in the world has dropped significantly after the debacle in Afghanistan, and Democrats are hoping Illinoisans are so distracted that they will not notice this extremely gerrymandered map. The people of Southern Illinois should know that Democrats in Illinois are working for JB Pritzker, Joe Biden, and Nancy Pelosi, not for you."
Votes on the newly proposed Congressional district maps could happen as early as next week, as the Illinois House and Senate will return to action in Springfield on Tuesday for the 2021 Veto Session.
###
Honoring the Kelly Family for 40 Years Managing Giant City Lodge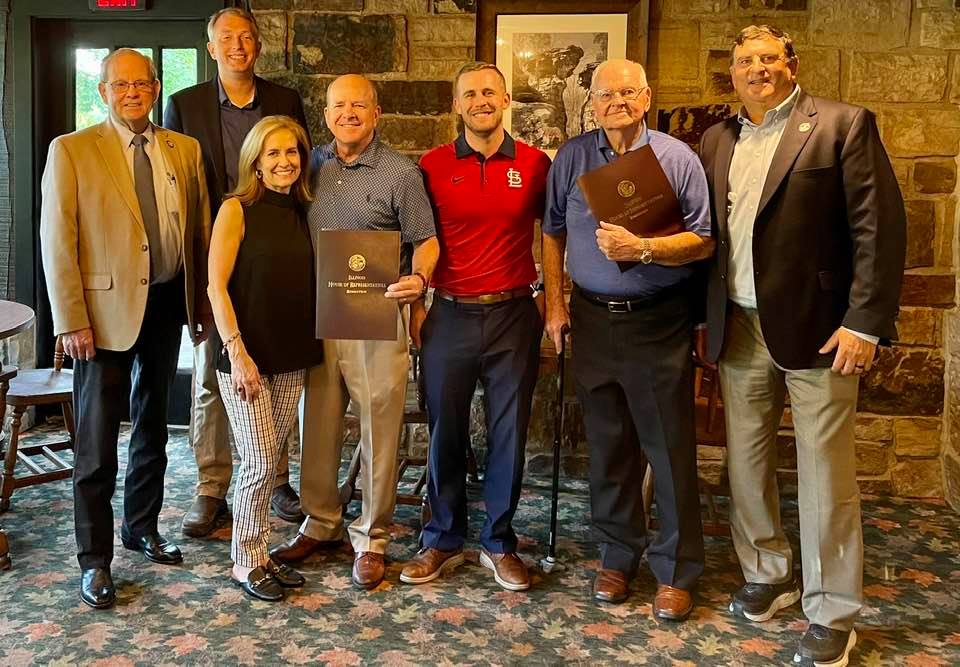 I recently had the privilege of honoring the Kelly family at Giant City. I along with Reps. Patrick Windhorst and Paul Jacobs met the Kelly Family for dinner at the Lodge. I was proud to present the family with a House Resolution recognizing their 40 years of service to thousands of guests from all over the world. Thank you to the Kelly Family and may Giant City Lodge live on to serve tourists and Illinoisans for years to come!
Stay Connected!
My office in Marion is available to serve you by appointment or phone Monday through Friday 8:30 AM – 4:30 PM. You may reach my office any time at 618-440-5090 or by visiting RepSeverin.com/contact and sending me a message. You can correspond by mail with my office at 600 Halfway Road, Marion, IL