Dear Friend,
Today's edition of Severin Says is dedicated to the memory of those that were lost in catastrophic tornadoes that caused damage in six states, including Edwardsville, Illinois and Mayfield, Kentucky on Friday night. I want to thank the hundreds of first responders, firefighters, police and EMTs that are still responding to reports of people trapped or killed under the rubble. In these difficult times, we look to our fellow man for help, and the bravest among us that put their lives on the line every day are there time and time again.
Please join me and my wife Penny in saying a prayer for the lives lost, for the loved ones left behind, and for extra comfort as we approach the Christmas holiday. May the memories of those lost be a blessing, and may God be with the families and first responders still dealing with these new tragedies.
I – 57 Expansion Project from Benton to West Frankfort Marks New Phase of Construction Thanks to Rebuild Illinois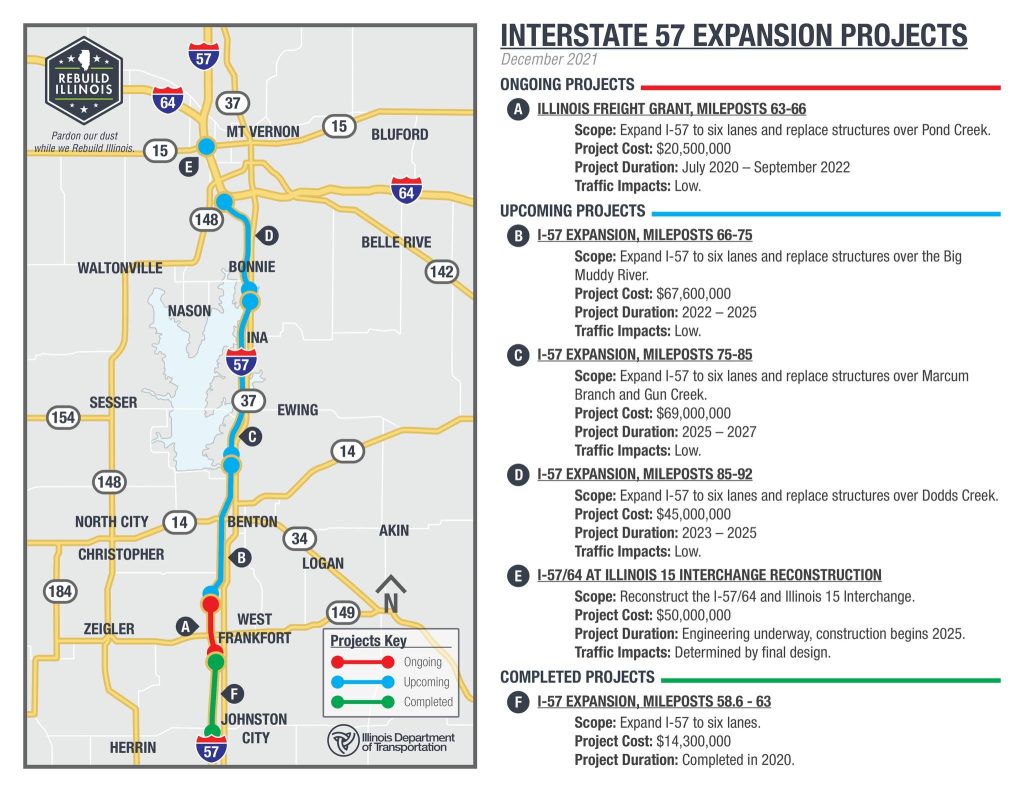 Serving as State Representative is a FULL-TIME job that means being responsive to the many diverse needs of your district and showing up for the people you represent. This week, I was proud to join IDOT officials in my hometown of Benton for the next phase of the I-57 expansion. This is what investing in hard infrastructure truly looks like.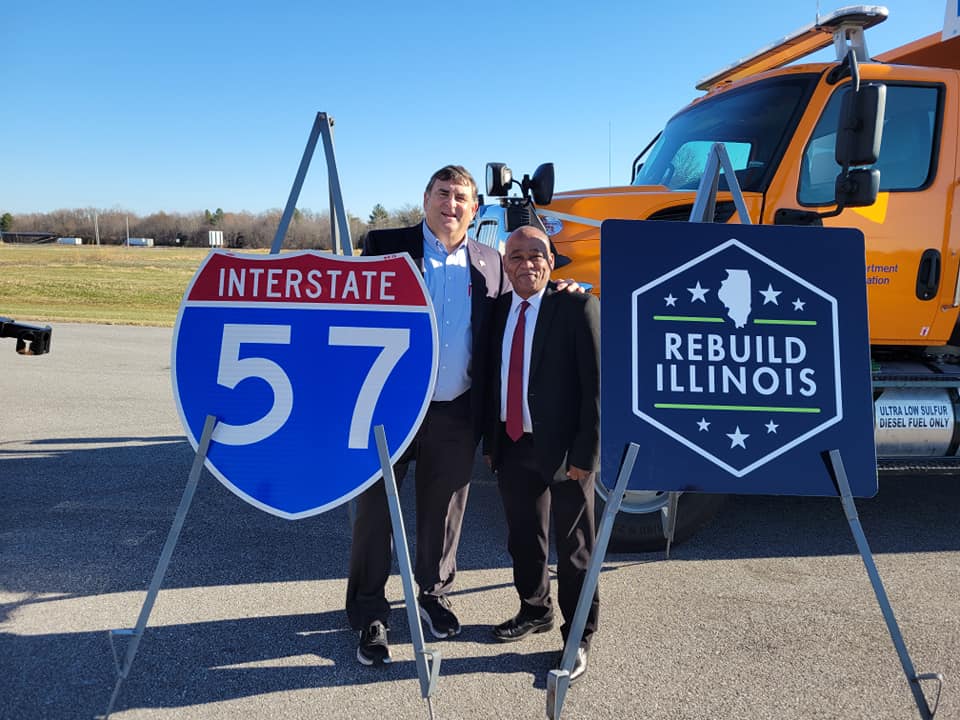 Marion Boys and Girls Club Expansion Ribbon Cutting
On Wednesday, I joined the Marion Boys and Girls Club in celebration of their expansion ribbon cutting. The Boys and Girls Club needs community support to keep providing critical services to area youth. Thank you to all who give and volunteer to such a worthy cause!
Walker's Bluff Resort Groundbreaking
I was pleased to join hundreds of fellow Southern Illinoisans as ground was broken on Walker's Bluff for their new resort facilities. I am working hard to make Southern Illinois a tourism destination and to bring good-paying jobs to our area. I voted to support the creation of this project and have been involved in the legislation that ensures Southern Illinois union labor will be used to build and maintain the facilities there.
Rep. Severin Sponsors Bill Banning Discrimination Based on COVID-19 Vaccine Status
I have signed on to sponsor legislation that creates the COVID-19 Religious Exemption Act.
The legislation makes it unlawful for any person, public or private institution, or public official to discriminate against any person in any manner because of such person's refusal to obtain, receive, or accept a COVID-19 vaccination contrary to his or her belief.
This proposal would protect Illinoisans who receive public assistance through unemployment and LINK card food assistance could not be cut off from support or discriminated against based on their COVID-19 vaccine status. HB 4239 would make it illegal to refuse any form of aid, assistance, or benefits, or to condition the reception in any way otherwise entitled to such aid.
STATE REP. DAVE SEVERIN ANNOUNCES ANNUAL 'BACKPACKS FOR BUDDIES' DRIVE TO AID CHILDREN IN EMERGENCY FOSTER CARE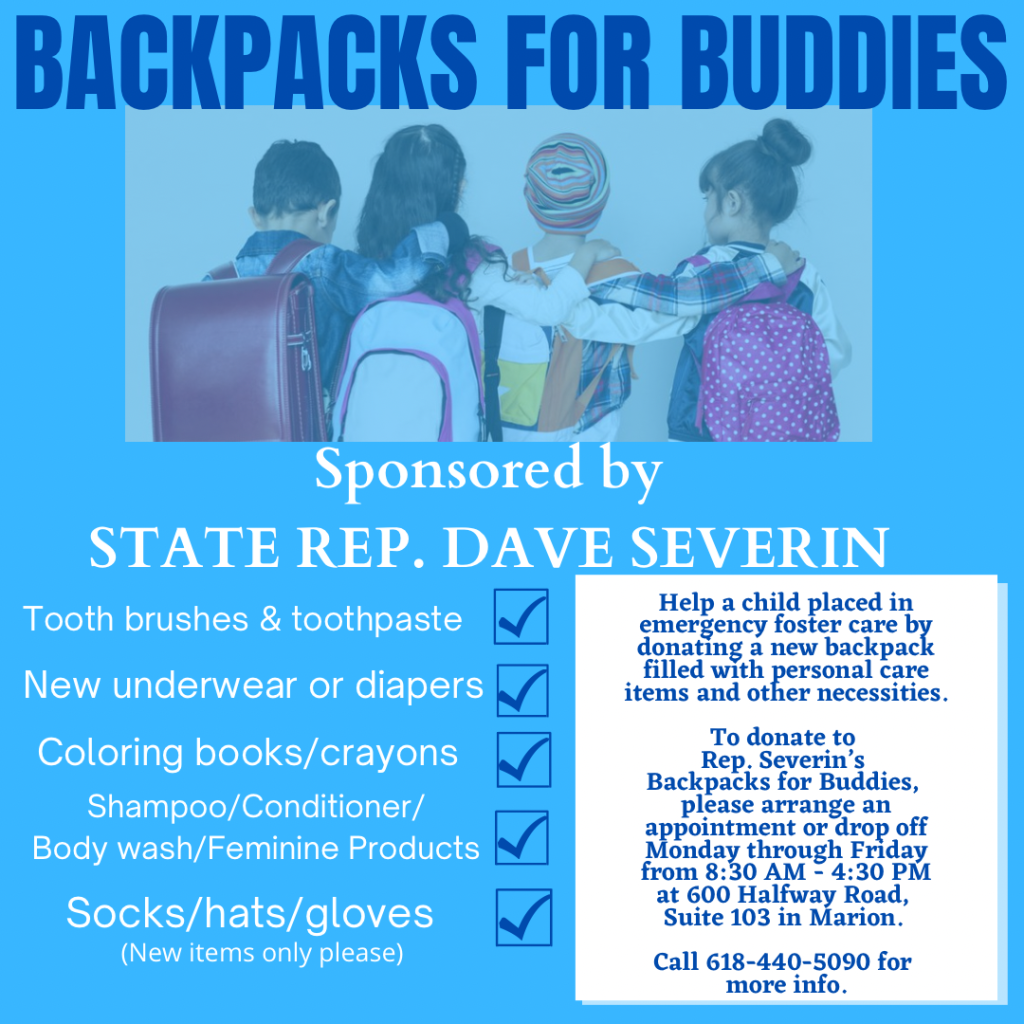 State Rep. Dave Severin Sponsors Annual Backpacks for Buddies Drive
MARION – State Representative Dave Severin has announced his 2nd annual Backpacks for Buddies holiday donation drive to benefit children and other minors placed in emergency foster care.
"Backpacks for Buddies collected literally hundreds of filled backpacks for children in need during the first year of the drive. We are so thankful to the people of my district that reached out and lent their support," Severin said. "Too often, when children are removed from their homes and placed into emergency foster care, they are forced to put their toiletry items, clothing, blankets, toys, and other personal comfort items into black trash bags for transport. When I first heard of this, I could not bear that thought, so my office launched an effort to help out. We are proud to be sponsoring Backpacks for Buddies once again this year."
Here's how the public can help. Donate a new backpack (can be themed for boys or girls, or neutral colors). You can also fill the backpack with supplies or bring supplies to fill empty backpacks. Suggested donations include: toothbrushes, toothpaste, mouthwash, deodorant, shampoo and conditioner, body wash, bar soap, and feminine hygiene products, coloring and activity books, crayons, colored pencils, markers, or any other item that would help a child make a difficult situation a little bit more comfortable.
Rep. Severin will be collecting "Backpacks for Buddies" at his district office in Marion located at 600 Halfway Road throughout the rest of the year and into next. The backpacks will be distributed to DCFS and Southern Illinois child protection agency partners as they are received.
For more information, please visit RepSeverin.com/BackPacksforBuddies or call 618-440-5090.
###
Stay Connected!
My office in Marion is available to serve you by appointment or phone Monday through Friday 8:30 AM – 4:30 PM. You may reach my office any time at 618-440-5090 or by visiting RepSeverin.com/contact and sending me a message. You can correspond by mail with my office at 600 Halfway Road, Marion, IL