Dear Friend,
Happy New Year! Legislators were in town in Springfield this past Wednesday for a one-day Session that lasted well into the night. Normally, when someone is working hard late at night it means progress and productivity. That is true in part in the case of the Illinois General Assembly, but what passed on Wednesday is not regarded by me to be successful legislative products. This week's Severin Says will break down some of the issues legislators tackled and take a look ahead at what may be to come in the coming months.
It is my privilege to serve you in Springfield. I am hopeful that in the new year, we can focus our efforts on shrinking the size of government, lowering taxes, protecting individual rights, and stamping out the corrupt influences that have plagued our state for far too long.
Public Safety and Crime Wave Lead the News in Springfield
My good friend and colleague State Rep. Patrick Windhorst of Metropolis lead a Capitol press conference on Wednesday to outline House Resolution 598, a resolution that calls for the full repeal of anti-police legislation passed by Democrats on party lines early last year. I was a member of the House last year when it passed, and I currently serve as the House Republican ranking member on the House Judiciary Criminal Law Committee.
I am a co-sponsor of HR 598 and I support the full repeal of the law. You can check out Rep. Windhorst, Rep. Tony McCombie, and Rep. Jackie Haas' press conference in the video below.
The so-called 'SAFE-T Act' has lead to record numbers of retirements of sheriffs and police officers, police officers leaving for other states that treat them better. I firmly believe the attitude displayed by Democrats to criminals is a 'soft-on-crime' approach that emboldens criminals. Look at what we've seen in the year since the bill was passed and signed into law by Governor Pritzker. Chicago has seen the most homicides in 25 years, smash and grab robberies are costing businesses hundreds of thousands of dollars, and carjackings are way up in the city of Chicago and its suburbs.
On Wednesday night, Democrats advanced yet another piece of legislation aimed at cleaning up errors contained in the original SAFE-T Act bill. The corrections range from misspellings to changing effective dates of some provisions of the law. I voted NO on the original anti-police bill and I voted no on the latest attempt to put a band-aid on it.
The overall concept of hampering our police's ability to do their job is bad and the overall bill was terrible. I am firmly pro-police and pro public-safety. We have to do more to protect our communities and businesses in the face of rising crime. Criminals need to know Illinois is serious about punishing perpetrators of violent crime. We can and must do better!
Judicial Sub Circuits Scheme will Help Democrats Pack the Courts with Soft-on-Crime Political Appointees
Another egregious abuse of the redistricting process played out under the dome on Wednesday. HB 3138 is legislation that creates new judicial sub circuits throughout the State of Illinois. This is not an easy concept to explain or even to understand. Suffice it to say, at a time when crime is out of control, Democrats are more interested in packing lower level courts with Democrat political appointees than addressing the spiraling crime in our communities.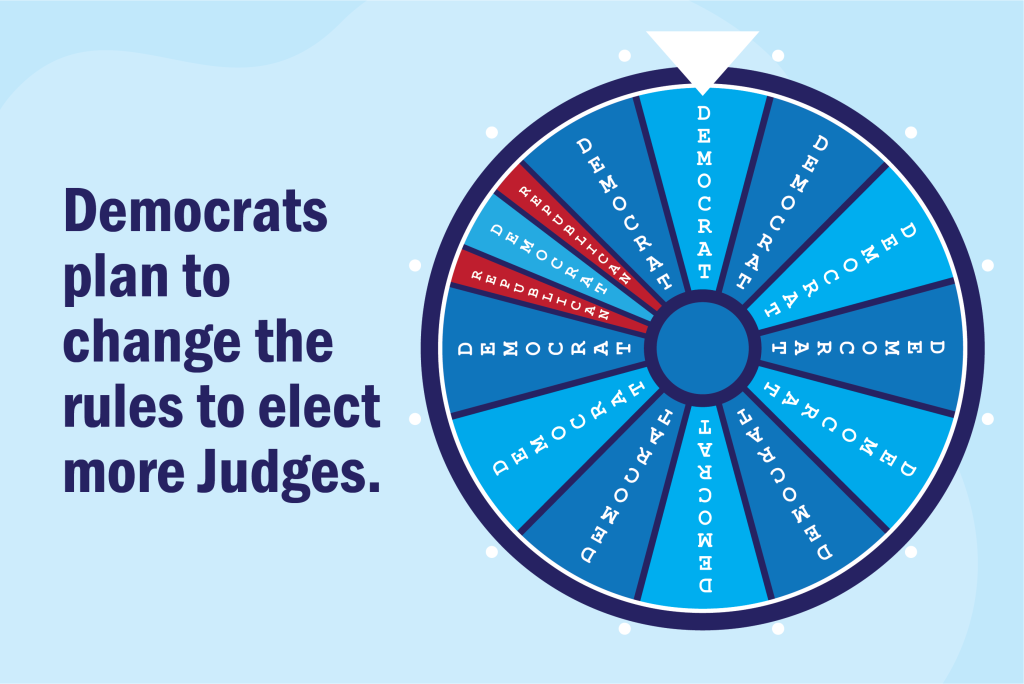 This is another example of Democrats making pure political power grabs in the redistricting process of 2021. With little to no public notice, and a zoom committee hearing early in the day that saw no witnesses testify, the passage of this legislation that creates new judicial sub-circuits is an affront to transparency and good government. Sponsors of the pack the courts scheme admitted during debate that members of the court system of the State of Illinois were not consulted about these changes.
Democrats just used the redistricting process to change circuit court maps, adding more politicians to the bench, and changing the rules to give themselves a competitive advantage to elect more Democrat judges.
New Year, New Laws 2022
There are more than 300 new laws that took effect on January 1, 2022. These changes range from the deregulation of lemonade stands to expanded cancer screening coverage and more. You can learn all about the various changes by clicking here: https://www.thecaucusblog.com/2021/12/new-laws-effective-in-new-year.html
Stay Connected!
My office in Marion is available to serve you by appointment or phone Monday through Friday 8:30 AM – 4:30 PM. You may reach my office any time at 618-440-5090 or by visiting RepSeverin.com/contact and sending me a message. You can correspond by mail with my office at 600 Halfway Road, Marion, IL