Dear Friend,
This week's Severin Says is packed with information on various items. First up, I've got details on next Tuesday's Senior Citizen's Health and Wellness Fair in Marion. Also, I am sponsoring legislation that aims to roll back harmful provisions of the Climate and Equitable Jobs Act (CEJA), that are causing massive electricity rate hikes and threatening our power grid. I've got information on that legislative package, new rules on gun control from the Illinois State Police, and details on the upcoming Du Quoin State Fair. Thank you for reading!
Representative Severin and Senator Fowler to Host Free Marion Senior Health and Wellness Fair
MARION – State Representative Dave Severin and State Representative Dale Fowler are once again teaming up to provide a free senior citizens health and wellness fair on Tuesday, August 23rd at the Hub in Marion from 9:00 a.m. – 11:00 a.m.
The fair will feature several senior service agencies to provide literature, helpful guides, and other resources from a variety of state, county, and local agencies.  General Assembly staff members will be on-hand to assist constituents with their concerns regarding state government.  Those who attend are encouraged to sign up for a chance to win a door prize.  The fair is free of charge.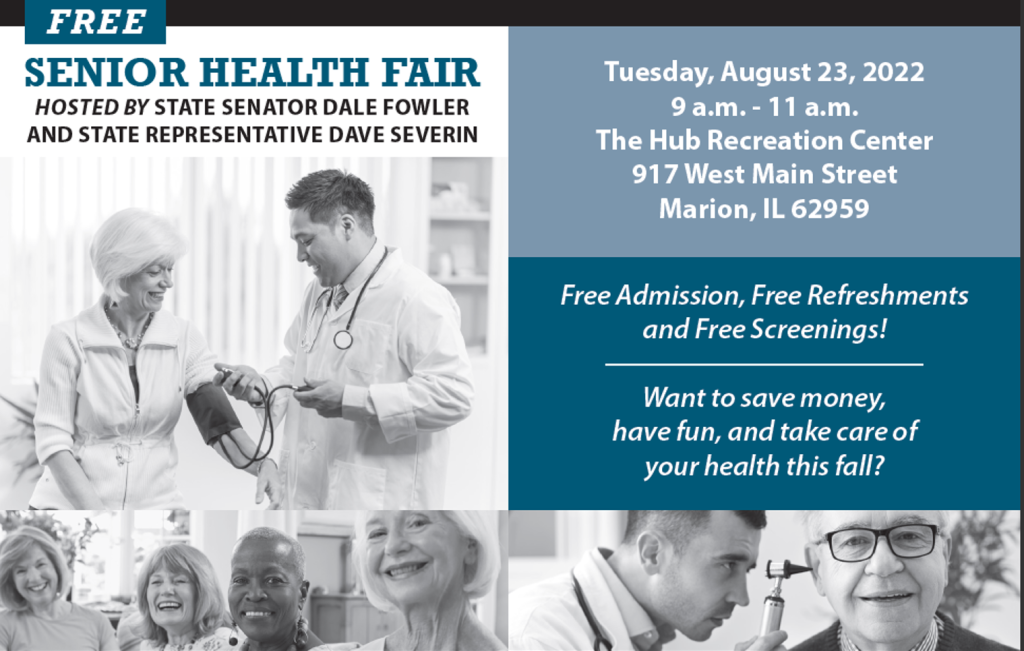 This year, Christopher Rural Health Care will be on hand to provide free diabetes testing. Fasting is not required. Complimentary coffee, fruit, and other refreshments will be provided for attendees.
For more information, call Rep. Severin at 618-440-5090 or email Severin@ILHouseGOP.org.
Severin: Energy-Focused Legislative Package Aimed at Cutting Electricity Costs, Ending Blackout Threats
BENTON – State Representative Dave Severin (R-Benton) announced this week he is sponsoring legislation that would dismantle the "Green New Deal" bill sponsored by Chicago Democrats and signed by Gov. JB Pritzker. Severin says liberal progressives running Illinois government have gone too far with their green agenda, costing everyone more for energy and causing unnecessary threats to the power grid.

"The 2021 Climate and Equity Jobs Act (CEJA) is responsible for massive job loss, rising energy costs, and threatening the energy grid throughout the State of Illinois," Severin said. "I'm for an all-of-the-above approach when it comes to being energy independent, and I find the threat of individuals and businesses going bankrupt, and the real possibility of brownouts and blackouts due to reckless Democrat-sponsored energy policies completely unacceptable. Illinois has already lost four downstate coal plants, accounting for more than 2,000 MW of reliable energy, since Governor Pritzker has taken office. The people I represent cannot afford for the State of Illinois to sit idly by while our energy security is being threatened. My bills will prevent even more price increases and eliminate grid instability for our residents that expect and deserve affordable, reliable energy."

Citing major concerns he's heard from constituents and large and small employers alike, Severin is sponsoring three major pieces of legislation he says will restore Illinois to a position of energy independence while cutting costs for consumers and businesses and securing the power grid against blackouts and brownouts.

HB 5780 would repurpose $10 million from fees already collected by Illinois ratepayers for renewables for the purpose of retrofitting coal and natural gas plants with carbon capturing technology. The bill also includes the creation of a new Power Grid Task Force to study the effect of state laws, including CEJA, on energy prices as well as grid reliability. The task force would also be charged with exploring ways to improve the power supply mix within the state using existing energy resources and new technologies, with the stated goal of ensuring the future stability and reliability of Illinois' power grid. The bill will consider the present and future needs of Illinois consumers while simultaneously addressing any issues related to the performance and reliability of power generation in Illinois.

"Illinois has the capacity and capability to produce some of the cleanest burning coal-fired power in the world," Severin said. "Arbitrarily closing 'peaker' power plants before renewable energy is ready to take their place is a recipe for disaster. Unfortunately, due to Illinois and other states in the Midwest adopting radical energy policies, our citizens are now facing rolling blackouts and massive price spikes for electricity customers. Permanently shutting down power plants that could otherwise be retrofitted to reduce their carbon emissions puts our state's energy-producing capacity at risk and has already caused costs to spike to unacceptable and unaffordable levels."

HB 5781 repeals the forced 2045 closure date for coal and natural gas power plants that was implemented under the provisions of CEJA, which was signed by Governor Pritzker in 2021. The bill would also allow companies to build new gas peaker plants without the fear of forced closure to ensure Illinois' grid will be able to meet its demand.

HB 5782 would eliminate red tape at the Illinois Environmental Protection Agency (EPA) that has been preventing new power plants from coming online in a timely manner by expediting the state permitting process.

"We have an energy emergency going on for working families, seniors on fixed incomes, and small and large businesses in Illinois. There is an ongoing threat to the power grid because of irresponsible energy policies supported by President Biden, Governor Pritzker, and Illinois Democrats at every level." Severin said. "My legislation would streamline the permitting process to keep up with the demand for energy to prevent unnecessary stress on the grid and outrageous price hikes. Illinois has massive reserves of energy fuel. Our state should be a net exporter of energy while providing our citizens with cheap, clean, reliable, and efficient energy services. This legislative package would restore our state's ability to generate and deliver electricity, cut costs for consumers and businesses, and ensure the reliability of the power grid well into the future."
###
Illinois State Police changes FOID card "clear and present danger" standard
Current law makes possession of a Firearm Owners Identification (FOID) card a requirement for possessing or carrying a firearm. Illinois residents apply to the State Police to present identification information before being issued a FOID card, which must be presented whenever a resident seeks to buy or take possession of a firearm in Illinois.
The presumption, under Illinois law, is that most persons who apply for an FOID card ought to get one. Exceptions include the authority granted, by current law, to the State Police not to issue an FOID card to any person who is a "clear and present danger" to others. "Clear and present danger" is a legal term that can be expanded or shrunk. The State Police has now promulgated a rulemaking to expand the definition of "clear and present danger" to prevent likely dangerous individuals from receiving a FOID card to purchase firearms. The new language strikes out old language that defined "clear and present danger" as involving an actual, impending, or imminent threat of substantial bodily harm to themselves or another person. Instead, the new standard adopted by the State Police will allow any violent, suicidal, or assaultive threat, even if not immediate or imminent, to stop the issuance of an FOID card.
The new State Police language was adopted by emergency rule, which means that it is already in effect. The emergency rule will remain in effect for no more than 150 days, which will be a period of time required to write the new language in the form of a permanent rule up for public comment. Persons throughout Illinois will have the chance to comment on the new rules language when it comes out. These comments will not, however, affect the current emergency rule. The State Police emergency rule was published on Monday, July 18.
Expirations for Illinois drivers' licenses/ID cards extended until December 1, 2022
Due to the ongoing COVID-19 pandemic as well as federal REAL ID requirements, the Office of Illinois Secretary of State has announced a further extension in the lifespan of drivers' licenses and identification cards until December 1, 2022. This postpones the previous deadline, which had been July 31, 2022.
In addition, Illinois residents whose goal is simply to "roll over" their existing driver's license or ID card are being encouraged to file their renewal applications online. This online renewal process, for those who are eligible, will replace the requirement under current law that the renewal applicant show up at a Driver Services facility in person.
This extension and online application opportunity does not apply to all drivers in all conditions. Applications for commercial drivers' licenses (CDLs) and CDL learners' permits must obey existing time requirements and deadlines. First-time license/ID-card applicants, and those who are seeking to switch over from a non-REAL ID-compliant card to a REAL-ID compliant card, will continue to have to visit a facility in person to submit documents to verify their identities.
Du Quoin State Fair Runs August 26 – September 5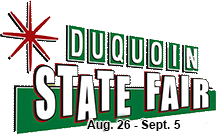 The Du Quoin State Fair begins on Friday, August 26th, and runs through Labor Day, Monday, September 5, 2022. To learn about this year's entertainment, competitive events, food vendors, and more, please visit: https://www2.illinois.gov/sites/dsf/Pages/default.aspx
Stay Connected!
My office in Marion can be reached at 618-440-5090 or you can reach me by email at Severin@ILHouseGOP.org. Check out RepSeverin.com for more information or send me a message at RepSeverin.com/contact.