Dear Friend,
The Illinois House will return to action today to begin considering the FY 24 budget. The latest news from Springfield is that the Senate will likely pass a budget later today (more likely tonight), and then send it to the House for consideration. Last week, Democrats blew past their own self-imposed deadline to pass a budget. May 19th has come and gone and there is still no budget available for public review at this time. The lack of transparency coming from the Democrats on a spending plan of this magnitude at this late stage of the session is disappointing.
I'm in Springfield, ready to work on a budget that is balanced, does not increase taxes, and is properly vetted through public hearings and meaningful debate. I'll continue to keep you updated throughout the remainder of the session. I'm also reminding residents that my annual Summer Reading Club is up and running. I've got information on how your 1st through 4th grader can participate in this week's newsletter. Thank you for checking out the rest of this edition of Severin Says. If you wish to subscribe to my newsletter, click the link below!
Rep. Severin Issues Response to Democrats Missing Budget Deadline
Last Friday, when it became apparent that Democrats would miss their own budget deadline, I let my feelings be known about the dysfunction in Springfield and the lack of transparency surrounding the state budget. The House was scheduled to adjourn on May 19th, and Democrats blew past their own self imposed deadline with no budget proposal to read or consider. The people of Illinois deserve an open and honest process, not a $50 billion dollar budget dropped at the last minute.
Severin Summer Reading Club – Sign Up Today!
As your 116th district State Representative, I want to invite students in 1st through 4th grade participate in my annual "Wild About Reading" Summer Reading Club.
Those students that read EIGHT books this summer will receive an official Illinois House of Representatives Certificate of Recognition as well as a coupon for a free custard from Culver's, a coupon for donuts from Krispy Kreme in Marion, and two tickets (one for the reader, one for a parent/guardian) to a Thrillville Thrillbillies Prospect League baseball game at Mountain Dew Park in Marion in July 2023 for a special "Night at the Ballpark" celebrating summer readers.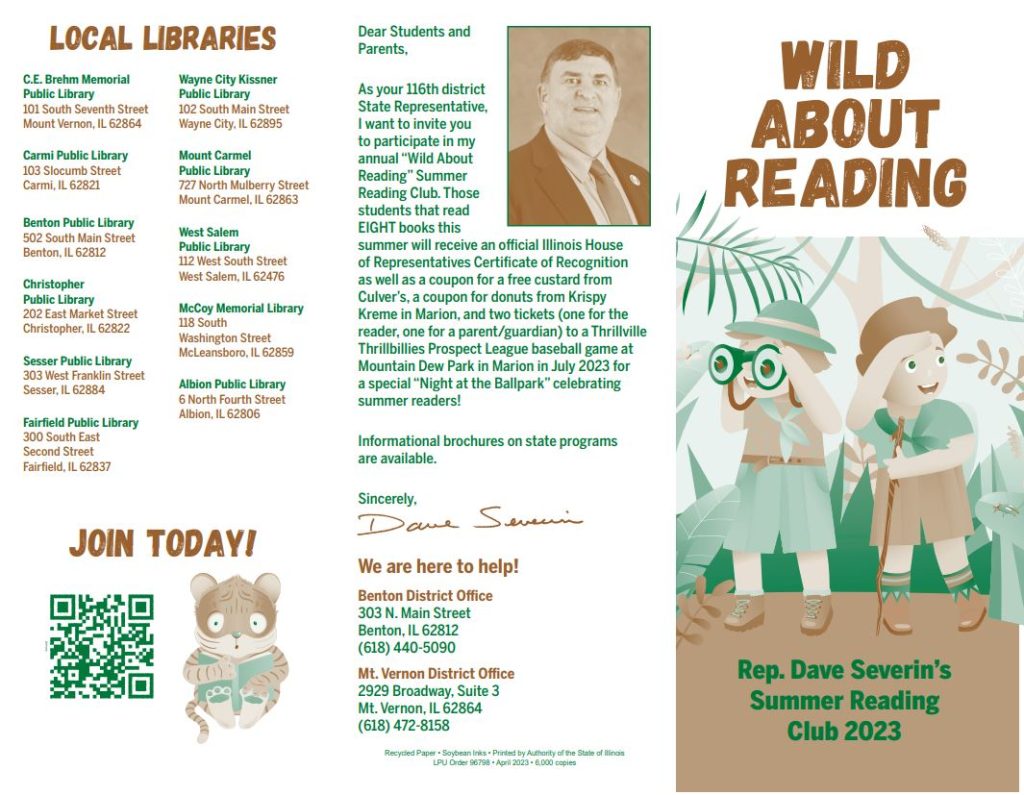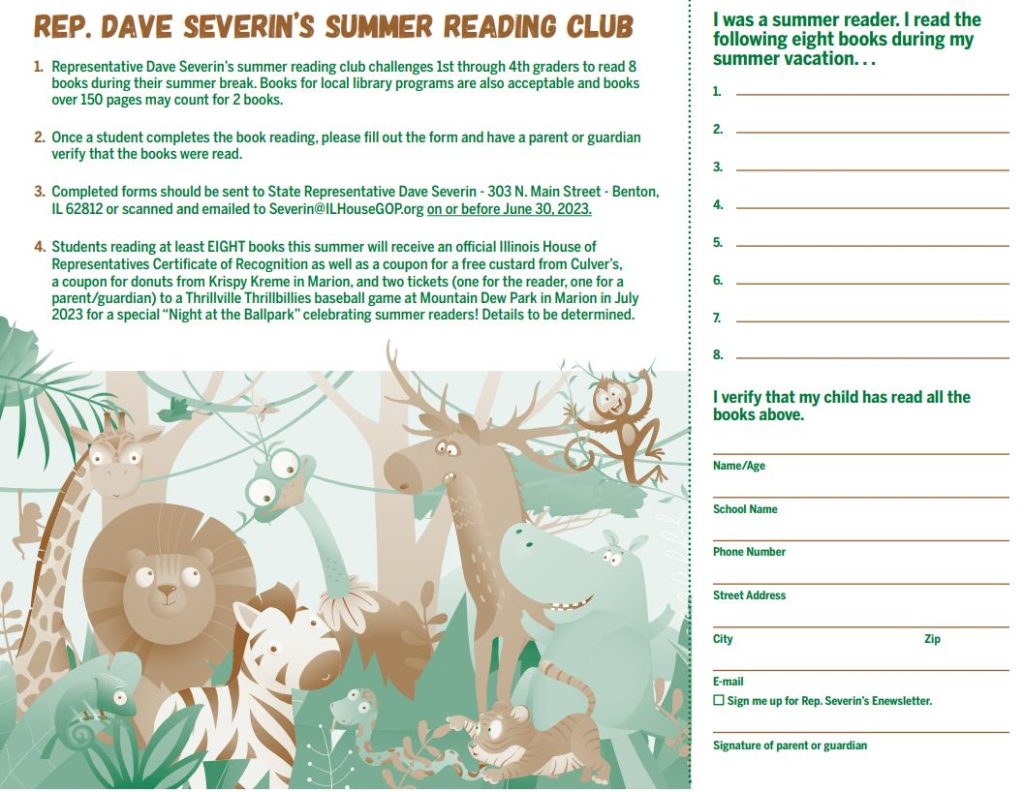 National EMS Week!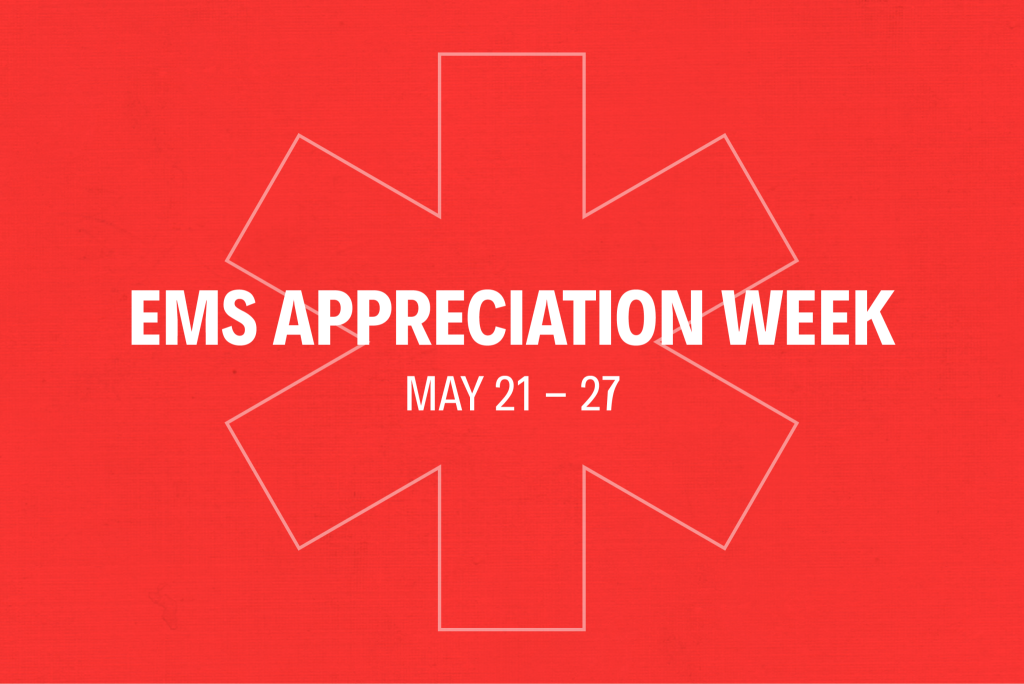 Thank you to the EMS workers across the state who save lives and help people through their most critical moments. Happy EMS Week and thank you for all that you do!
Severin: Ethics Reforms Must Pass Before End of Session
Democrats passed dozens of their priorities through the House on what was supposed to be the final week of session. Noticeably absent from those bills were the comprehensive ethics reform measures needed to end corruption in Illinois. There is nothing stopping us from passing strong anti-corruption measures today. Let's get it done.
Governor's Hometown Awards – How to Apply
The Serve Illinois Commission on Volunteerism and Community Service (Serve Illinois) is accepting applications for the Governor's Hometown Awards (GHTA) program. GHTA gives formal recognition to those who contributed to projects that improved their community's quality of life. These projects, sponsored by local units of government, had strong volunteer support, met a need, and made a definitive impact, thereby generating a positive outcome in the community, and by extension, the state.
Interested townships, villages, cities, and counties can apply now through June 16, 2023 for projects that occurred and utilized volunteers in their communities from the period of January 1, 2022, through December 31, 2022.
You can learn more about the program and how to apply by clicking below:
https://serve.illinois.gov/our-programs/volunteerism/recognition/governor-s-hometown-awards.html
STAY CONNECTED!
I am excited to offer three offices to help serve residents living in the new 116th district. Here are the locations and phone numbers. You can stay up to date on all the news and notes from Springfield and beyond at RepSeverin.com or reach out to me by email at Severin@ILHouseGOP.org.
Mt. Vernon Office
2929 Broadway, Suite 3 Mt. Vernon, IL 62864
618-472-8158
Benton Office
303 N. Main Street Benton, IL 62812
618-440-5090
Springfield Office
223-N Stratton Office Building
Springfield, IL 62706
217-782-1051