MT. VERNON – State Senator Terri Bryant (R-Murphysboro) and State Representative Dave Severin (R-Benton) will host a free senior citizens health and wellness fair in Mt. Vernon on Wednesday, August 9th at the Rolland Lewis Building from 9:00 a.m. – 11:00 a.m.
Rep. Severin says multiple local health care and senior services vendors will be on hand to provide free health screenings and information on a variety of services.
"This free senior citizens health and wellness fair is an opportunity for local seniors to connect with vendors and senior services and to meet with their legislators face to face," Rep. Severin said. "I'm happy to join with Senator Bryant to continue to connect with seniors in our district, let them know their legislators are working for them, and to provide them with free health screenings and important information."
Sen. Bryant has been hosting the senior fair in Mount Vernon dating back to her time as State Representative.
"The event seems to get bigger every year, as seniors from Jefferson County and the surrounding area are used to coming to the event every year to get some free health care screenings and receive important information," Sen. Bryant said. "I look forward to meeting with seniors and health care providers to help connect folks with the services that are available to them right here in their community."
Door prizes will be awarded to attendees from the various health care and senior service vendors in attendance. Free donuts, fruit, juice, and coffee refreshments will also be provided.
Who: State Rep. Dave Severin and State Sen. Terri Bryant
What: Free Senior Citizens Health and Wellness Fair
When: Wednesday, August 9, 2023 – 9:00 a.m. – 11:00 a.m.
Where: Rolland Lewis Building – 800 S 27th St. Mt. Vernon, IL 62864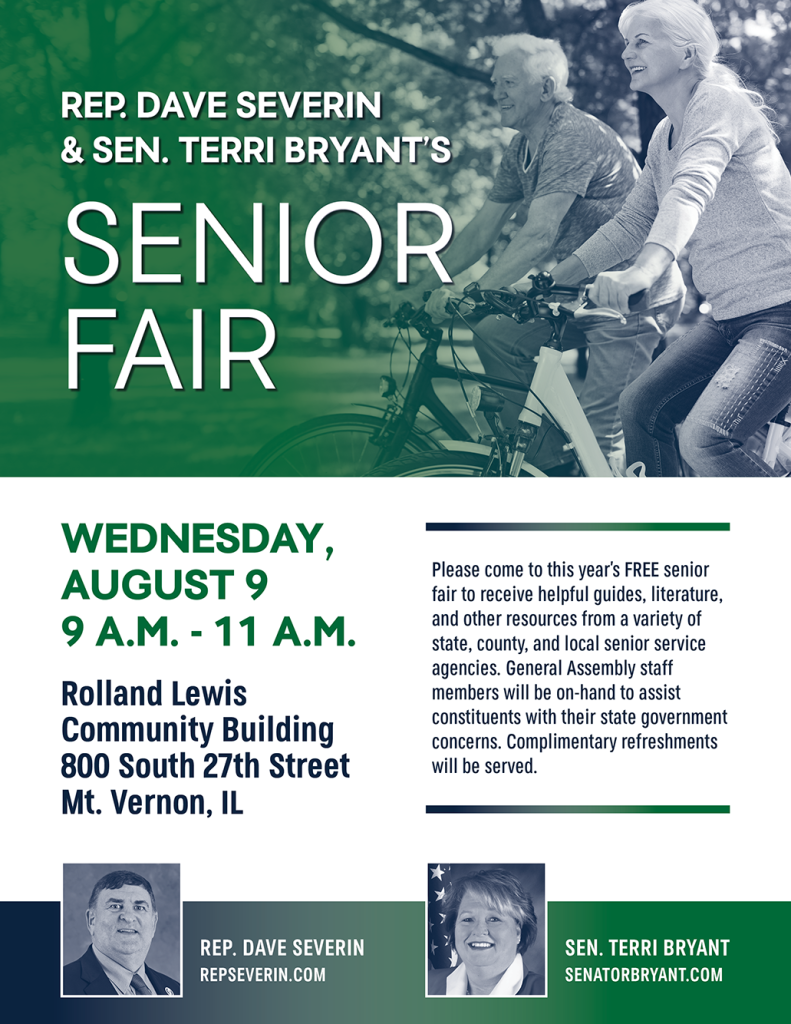 ###