Dear Friend,
This week's edition of Severin Says will take a look at my Committee assignments in the House, our TREMENDOUS Town Hall meeting on Monday, and we'll discuss a couple of very controversial topics making news from Springfield this week. Let's get started!
Press Release: Severin Says Committee Assignments Reflect District Priorities
Springfield….117th District State Rep. Dave Severin (R-Benton) has announced his appointment to several key House Committees. Severin says he believes his assigned Committees will allow him to use his voice to stand up for Southern Illinois and the many interests of the region.
"This week I am proud to announce my House Committee assignments," Severin said. "I received appointments that will allow me to work on issues in K-12 and higher education, mental health services, and Veterans' affairs."
The 117th district is either home to or in close geographic proximity to Southern Illinois University Carbondale, John A. Logan Community College, Rend Lake Community College, and Shawnee Community College.
Severin will serve in the 101st General Assembly as a regular standing member of the following Committees: Higher Education and Higher Education Appropriations, Elementary and Secondary School Education: Curriculum and Policies, Mental Health, and Veterans' Affairs.
"With the Anna Veteran's Home and Choate Mental Health Care Center being here in Southern Illinois, I will have a unique opportunity to advocate for our mental health care system and for critical human service needs facing the people of our State," Severin said. "My Committee assignments will allow me to represent an important cross-section of issues for the people of my district and for Southern Illinois as a region."
####
Town Hall Draws Hundreds!
I want to say THANK YOU to the hundreds of Southern Illinoisans that came out to participate in the Southern Illinois Town Hall meeting in Marion on Monday. The crowd was enormous, with estimates of attendance being around 500 people. As you can see, the Midwest Event Center put on a beautiful display and hosted a first-class event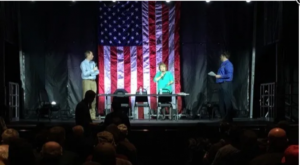 The issues we covered were: taxpayer funding of abortion, gun control , raising the minimum wage to $15/hr., and legalizing marijuana for recreational use. We also provided a 10-question survey to attendees on the aforementioned issues and several more. You can take the survey yourself by visiting: http://www.ilhousegop.org/marion_survey_2019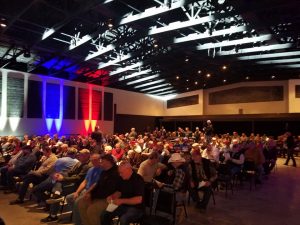 In total, attendees turned in 353 completed surveys. The completed surveys were tabulated and here are the results of the vote of the Town Hall attendees.

As you can tell by the numbers above, Southern Illinoisans in attendance were overwhelmingly opposed to taxpayer funding of abortion, banning so-called "assault weapons", searching through social media posts for reasons to revoke FOID cards, $15 an hour minimum wage, and all of the proposed tax increases.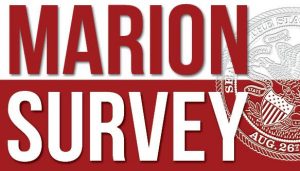 Large, but somewhat narrower margins express disapproval of legalizing recreational marijuana and expanding access to medical marijuana.
After Monday night's town hall, I have heard from many people expressing interest in completing witness slips as opponents or proponents of certain bills. Here is how you do it.
Track the bill by # on www.ilga.gov. Watch for when the bill is assigned to Committee:
Then, go to my.ilga.gov.
1. Click on the Committee you want. The bills in Committee will appear.
2. Click on the far right to complete a witness slip.
3. If you do not plan to speak at the hearing show "record of appearance only" section 4
4. Click the box at the bottom agreeing to the terms
5. Click the button "Create Slip"
Minimum Wage Increase Clears State Senate
Discussion on raising the minimum wage is ramping up in Springfield. On Thursday, SB 1 passed the Senate. The bill will increase Illinois' minimum wage to $15/hour over the next 6 years. The House is expected to take action next week, and hosted a subject matter only hearing on the issue this week.
A major concern that I am expressing is the 'one-size-fits-all' nature of the legislation.
The current version of SB 1 does not reflect real cost of living differences in the various regions of the State and I believe raising the minimum wage this high, this fast will result in massive job losses and more outmigration of businesses and families from Illinois.
WHAT DO YOU THINK? Do you support the proposal to raise Illinois' minimum wage to $15 an hour?
You can express your opinion by visiting my website at www.RepSeverin.com and clicking on "Marion Survey 2019" at the top right of the page.
Evidence that Your Voice Can Be Heard! HB 181 Tabled!I am not sure how many of you have heard of HB 181, but I just want to take a moment to congratulate you, the people of Illinois, for expressing your collective outrage at this ridiculous legislation.
HB 181 would have created the Parental Bullying Act. HB 181 stipulated that a parent or legal guardian of a minor commits parental bullying when he or she knowingly and with the intent to discipline, embarrass, or alter the behavior of the minor, transmits any verbal or visual message that the parent or legal guardian reasonably believes would coerce, intimidate, harass, or cause substantial emotional distress to the minor.
The only action that was taken by the full House of Representatives this week was to in fact, table HB 181. That means that the legislation is dead (for now) and will advance no further. Your voices were heard!